Gardaí have confirmed that the Assistant Commissioner Special Crime Operations has been appointed to conduct a fact-finding exercise into the circumstances, from a garda perspective, that led to the collapse of a trial in Belfast today.
41-year-old Damien Mc Laughlin from Co Tyrone was found not guilty of aiding and abetting the murder of prison officer, David Black in 2012.
Video interviews carried out by gardaí in Co Leitrim were criticised by the judge in the non-jury trial.
David Black, 52, was shot dead on the MI motorway as he drove to work at Maghaberry prison six years ago.
Damien McLaughlin was accused of aiding and abetting murder, possession of articles for use in terrorism, preparation of terrorist acts and belonging to a proscribed organisation.
He walked free after prosecutors decided not to appeal against a judge's ruling that part of the evidence was unsafe.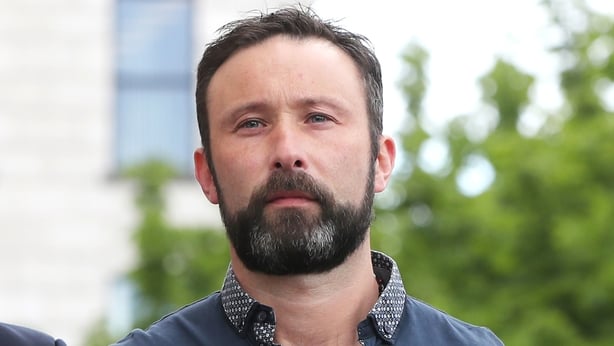 Mr McLaughlin, from Dungannon, appeared at Belfast Crown Court this morning.
The prosecution case against him rested on the evidence of Stephen Brady, who was interviewed by gardaí.
Mr Brady allegedly identified Mr McLaughlin as the man who moved a Toyota Camry car, later allegedly used by the gunmen to carry out the ambush of Mr Black.
Earlier this week the judge, Mr Justice Adrian Colton, said: "The risk of unreliability of Brady's statements is such that they should not be admitted by way of hearsay."
He said the profanities used by the interviewers were "excessive and oppressive".
The judge said the interviews were conducted in such a way as to "undermine" the suspect's right to silence.
"In the course of the interviews the suspect was the subject of threats and inducements.
"I am not satisfied that it is in the interests of justice for the hearsay evidence to be admitted.
"To the contrary, because of the particular circumstances in which the evidence was obtained, I consider that it is necessary in the interests of justice that it should not be admitted and that a trial depending upon it should not be allowed to proceed because any conviction based on that evidence would be unsafe."
Judge Colton told the court: "I direct that a not guilty verdict be entered in respect of this accused."
A Public Prosecution Service barrister said he had given the matter "earnest consideration", and added:
"I do not make an application to your lordship for leave to appeal the ruling.
"We will offer no further evidence in respect of any of the offences."
We need your consent to load this rte-player contentWe use rte-player to manage extra content that can set cookies on your device and collect data about your activity. Please review their details and accept them to load the content.Manage Preferences
David Black's son, Kyle, said the collapse of the trial was devastating.
We need your consent to load this rte-player contentWe use rte-player to manage extra content that can set cookies on your device and collect data about your activity. Please review their details and accept them to load the content.Manage Preferences