President of the European Commission Jean-Claude Junker has said that Ireland will come first in the Brexit negotiations, and that its border with Europe is a priority.
In an address to a joint sitting of the Dáil and the Seanad, Mr Juncker said that Ireland was not alone and has the backing of the 26 EU member states. He said that this will not change.
"We have Ireland backed by 26 member states and by the Commission - this will not change.
"I am strongly against any temptation to try to isolate Ireland and not to conclude a deal on Ireland. Ireland has to be part of the deal".
There was applause when Mr Juncker restated his commitment to Ireland.
"Ireland will come first... there are those that think the other 26 countries will abandon Ireland for a deal that suits them.
"Ireland's border is Europe's border and it is our priority."
Applause as @JunckerEU says "Ireland's border is Europe's border" | https://t.co/cYdDzQploo pic.twitter.com/Vv2dBQQJS8

— RTÉ News (@rtenews) June 21, 2018
This evening, Mr Juncker attended a dinner at Dublin Castle attended by Taoiseach Leo Varadkar.
All smiles as President of the European Commission Jean-Claude Junker signs the guest book at Dublin Castle @rtenews pic.twitter.com/ssvHQKbqDF

— Sinéad Hussey (@SineadHus) June 21, 2018
Earlier following a meeting with Mr Varadkar and Tánaiste Simon Coveney, Mr Juncker said that major steps had to be taken by Britain now and he hopes they will take them.
The Taoiseach said Ireland expects Britain to honour its commitments that there would not be a hard border on the island of Ireland after Brexit.
Mr Varadkar warned that there was not much time left to conclude a withdrawal agreement before the UK leaves the EU next March, and called on the UK to intensify its efforts in the time ahead.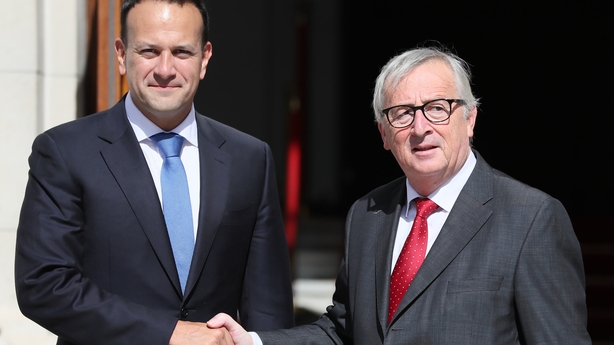 When speaking in the Dáil, Mr Juncker warned that "the hardest part" of the Brexit agreement was "still to come".
"There is not much time to find a concrete agreement".
"We agree that there should be no return to a hard border, we need to preserve north south institutions, and the Good Friday Agreement should be preserved in its entirety".
He told the Dáil that there is no deal as good as membership of the EU.
"It simply does not exist," Mr Juncker said, adding that the prospect of the UK leaving the EU without any deal at all must be prepared for.
We need your consent to load this rte-player contentWe use rte-player to manage extra content that can set cookies on your device and collect data about your activity. Please review their details and accept them to load the content.Manage Preferences
---
Read more:
No withdrawal deal without border agreement - Coveney
Taoiseach accuses UK of stalling talks over Irish border
Barnier says divergences remain on Ireland in Brexit talks
Analysis: Backstop deal more remote
Q&A: What is the Brexit 'backstop'?
---
Border must stay 'out of sight'
In his address, Mr Juncker said that the Irish border has been "out of sight for 20 years and that is how it must stay".
"That is why we have put forward clear proposals including a backstop agreement".
He said a bespoke and tailored solution cannot fit the whole of the United Kingdom, and while the UK's proposals for a temporary customs arrangement show a willingness to make progress, they do not show how regulatory alignment would work".
"We have less than ten months to Brexit, we need more answers and fewer new questions," he added.
After his speech, the Taoiseach thanked Mr Juncker for his words of support, and said that there has been consistent recognition of the "unique position of Northern Ireland".
"We are so deeply grateful for the remarkable solidarity and support we have received from the EU institutions and fellow member states, none more so than from President Juncker," Mr Varadkar said.
"There is no stronger evidence of how small countries benefit so much from EU membership and how membership matters."
Brexit is starting 'to resemble a riddle wrapped in an enigma' - Varadkar pic.twitter.com/1bZCPJ2XYQ

— RTÉ News (@rtenews) June 21, 2018
He said: "The Good Friday Agreement was made possible by shared membership of the European Union and the single market. It removed borders and differences between us.
"The removal of that foundation leaves us no less determined to protect the Good Friday Agreement, in all its parts, and in all that flows from it."
'Growing unease' over progress of negotiations
Fianna Fáil leader Micheál Martin told Mr Junker that there is "considerable and growing unease" over the failure to move from "generalities to concrete and final agreements" in the negations.
He said that "London may in fact never come up with a credible proposal" on the border.
"We are extremely concerned about how negotiations on the Irish text have now been linked with the overall withdrawal treaty text and its provisions for final status negotiations," he added.
Sinn Féin leader Mary Lou McDonald said Ireland needed "legal protection" and "not just kind words and sentiment" to prevent a hard border on the island of Ireland.
She said Brexit was the greatest challenge and threat to Ireland in generations.
"The potential for Brexit to cost jobs, damage our industry and to damage the welfare of our youth could not be overstated" and she described Brexit as "a Tory vanity project".
People Before Profit TD Richard Boyd Barrett asked Mr Juncker for a clear commitment that there would be no return to a hard border telling him that that: "We don't trust the Tories, Can we trust you?"
Mr Junker was applauded as he responded "yes".
When @RBoydBarrett asked @JunckerEU 'can we trust you' on the border, Juncker shouted 'Yes' across the Dáil chamber | https://t.co/cYdDzQploo pic.twitter.com/MHFx0llXEr

— RTÉ News (@rtenews) June 21, 2018
Meanwhile, Labour leader Brendan Howlin welcomed Mr Junker for his assurances on the border, because of reports that Ireland would be abandoned if agreement could not be found.
"That solidarity expressed so clearly by you today is fundamentally important for us and the future of our union."
Mr Howlin added that the issue needed to be seen through a wider lens than Brexit, and that a social Europe would greatly increase the chance of transforming economies on a wider scale.
This morning's meeting at Government Buildings was also attended by the EU chief negotiator Michel Barnier and European Commissioner for Agriculture Phil Hogan, where Mr Barnier stated again that there are serious divergences between the EU and the UK on the Irish border issue.
Additional Reporting: Justin McCarthy, Edel McAllister, Sinéad Hussey and agencies