Sinn Féin leader Mary Lou McDonald has said her party will not be excluded from Government by Leo Varadkar or Michéal Martin.
She told her party's Ard Fheis in Belfast that Irish political life is no longer dictated by them, and it is no longer "their way or the highway".
She also said it will be the decision of the people, and not the leaders of Fianna Fáil or Fine Gael to determine the makeup of the next government.
Making her first live televised speech as leader, she told delegates that those who are on an agenda to exclude Sinn Féin from government should "wake up and smell the coffee".
Sinn Féin ready to go back into power-sharing Assembly, Mary Lou McDonald tells Ard Fheis in Belfast pic.twitter.com/BUlLtLEsUz

— RTÉ News (@rtenews) June 16, 2018
"It is not for Leo Varadkar or Michéal Martin to decide whether or not we enter government. That decision will be made in the first instance by the people.
"At the election the people are in control, we will ask them to back us, to give us the opportunity, the chance to make big changes," she said.
On the issue of Brexit, she said if the British government does not have a credible proposal to remove the prospect of a hard border then the Irish Government must "call them out".
She said "there can be no question of progressing to the next phase of the negotiations in the absence of an answer to the Irish question".
"This is one test that our Government cannot flunk," she added.
Sinn Féin President Mary Lou McDonald calls for change in Northern Ireland's abortion regime at the Ard Fheis in Belfast #SFAF2018 pic.twitter.com/jZUGhlNO4j

— RTÉ News (@rtenews) June 16, 2018
She called on the British and Irish governments to come together to remove any obstacles to the restoration of power sharing in Northern Ireland.
And reaching out to unionists, she said "we need to find ways of reconciling the past, people suffered, were hurt, endured pain, inflicted pain".
"We can't make that go away but we can say sorry to each other," she said.
Ms McDonald also referenced her party's decision to clarify its position on the forthcoming legislation on abortion.
She said Sinn Féin would now "move forward together, united in our determination to see the necessary legislation passed without delay".
And she called for change in Northern Ireland's abortion regime saying "there is nothing to fear in that change, and let me be say this loud and clear - the North is next".
Earlier, delegates voted in favour of a motion allowing the party's leadership to instruct TDs in relation to future abortion votes.
And they rejected a proposal to allow a free vote, or votes of conscience.
The decision paves the way for Sinn Féin TDs and Senators to support the Government's legislative proposals on abortion, which allow for abortion in the first 12 weeks of pregnancy.
Party has no plans at present for no confidence motion in Minister for Housing
Earlier, Sinn Féin party whip Aengus Ó Snodaigh said the party has no plan at present to table a motion of no confidence in Minister for Housing Eoghan Murphy before the Dáil breaks for its summer holidays.
He said the party had one opportunity before the summer to put down a motion and it had instead decided to table a motion on hospital waiting lists next week.
However, Mr Ó Snodaigh said that the party has been allocated the first slot to table a private members' motion or bill when the Dáil returns in September.
He said the party would discuss the matter before the Dáil returns in the autumn.
The Ard Fheis in Belfast also heard repeated calls for a referendum on Irish unity.
The party's MP for South Down Chris Hazzard said: "Michéal Martin and Leo Varadkar have told us we must wait, but Sinn Féin doesn't do waiting."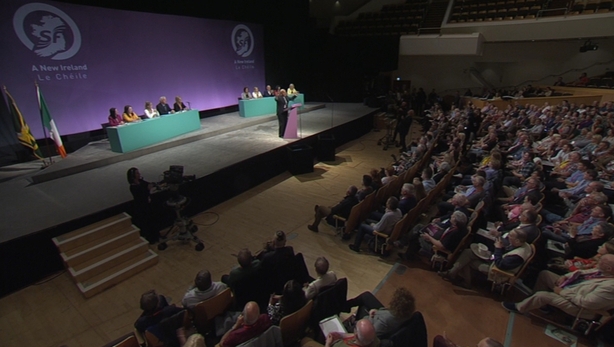 MP for West Tyrone Órfhlaith Begley said it was strange that self-declared democrats wanted to stand in the way of a popular vote.
"97 years of partition have utterly failed," she said, adding: "It's time for change."
Earlier, MEP Matt Carthy said the Irish people are wise to the difference between Sinn Féin and "mé féin" politics.
"They know that mé féin politics is represented by Fianna Fáil and Fine Gael, but the day of mé féin politics is coming to an end. It's time for a change," he said.
The Ard Fheis also heard calls for the expulsion of the Israeli ambassador, and was addressed on the plight of Palestinians by Afif Safieh, Fatah's Deputy Commissioner for International Relations.
Additional reporting: Martina Fitzgerald