Europe will implement counter-measures against US tariffs on steel and aluminium just like Canada, German Chancellor Angela Merkel has said.
She also voiced regret about US President Donald Trump's abrupt decision to withdraw support for a G7 communiqué.
Mr Trump's announcement on Twitter, after leaving the Group of Seven summit in Canada early, that he was backing out of the joint communiqué torpedoed what appeared to be a fragile consensus on a trade dispute between Washington and its top allies.
"The withdrawal, so to speak, via tweet is of course ... sobering and a bit depressing," Ms Merkel said in an ARD television interview following the G7 summit.
The summit did not mark the end of the transatlantic partnership between Europe and the US, she said. However, she repeated that Europe could no longer rely on its ally and should take its fate into its own hands.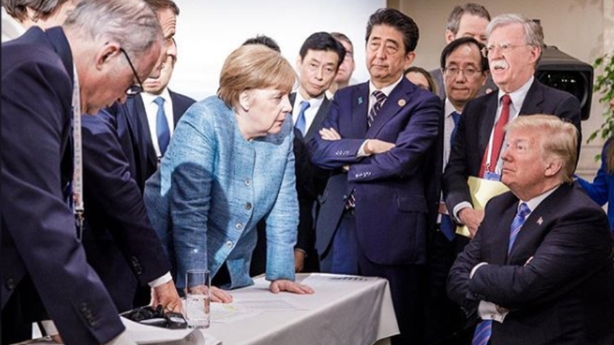 Like Canada, the European Union is preparing counter-measures against US tariffs on steel and aluminium imports, in line with World Trade Organisation rules, Ms Merkel said.
"So we won't let ourselves be ripped off again and again. Instead, we act then too," she said in an unusually combative tone.
Asked if she was concerned that Mr Trump could retaliate against EU counter-measures by imposing tariffs on cars, Ms Merkel said: "First of all, we'll try and see if we can prevent this ... And then hope that the EU will respond again in the same unity."
She said the G7 leaders had agreed to review their trade ties and assess the scope of existing tariffs in order to avoid further trade barriers.
The centre-right leader said a tariff-free area among G7 allies would be an ideal outcome, but she made clear that any talks about such a trade bloc would have to include non-tariff barriers to trade as well as free access to public tenders.
US-Canada row escalates following G7 summit
The United States and Canada have swung sharply towards a diplomatic and trade crisis as top White House advisors lashed out at Canadian Prime Minister Justin Trudeau, a day after Mr Trump called him "very dishonest and weak."
France has also sharply criticised Mr Trump's decision to abruptly withdraw his support for the communiqué hammered out at the Canadian summit yesterday, accusing him of destroying trust and acting inconsistently.
PM Justin Trudeau of Canada acted so meek and mild during our @G7 meetings only to give a news conference after I left saying that, "US Tariffs were kind of insulting" and he "will not be pushed around." Very dishonest & weak. Our Tariffs are in response to his of 270% on dairy!

— Donald J. Trump (@realDonaldTrump) June 9, 2018
Mr Trump's looming summit with North Korean leader Kim Jong Un heightens tension, and White House economic adviser Larry Kudlow accused Mr Trudeau of betraying Mr Trump with "polarising" statements on trade policy.
He said that it risked making the US leader look weak on the eve of the historic North Korea summit.
Hours after Mr Trump withdrew his support for the joint statement and attacked Mr Trudeau, Mr Kudlow and White House trade adviser Peter Navarro drove the message home today in an extraordinary assault on a close US ally and neighbour.
"(Trudeau) really kind of stabbed us in the back," Mr Kudlow, the director of the National Economic Council who had accompanied Mr Trump to the G7 summit, said on CNN's "State of the Union."
Mr Navarro told "Fox News Sunday": "There is a special place in hell for any for leader that engages in bad faith diplomacy with President Donald J. Trump and then tries to stab him in the back on the way out the door and that's what bad-faith Justin Trudeau did with that stunt press conference, that's what weak dishonest Justin Trudeau did."
Mr Trudeau did not immediately respond to the attacks, but his office said yesterday after Mr Trump withdrew support for the communiqué, that the prime minister had not said anything in his closing news conference he has not said to Mr Trump before.