US President Donald Trump told Canada and the European Union to do more to bring down their trade surpluses, a day after hitting them and Mexico with import tariffs on steel and aluminium.
Mr Trump castigated Canada, a top US trade partner and ally, in a tweet this morning, saying it had treated US farmers "very poorly for a very long period of time".
"Highly restrictive on Trade! They must open their markets and take down their trade barriers! They report a really high surplus on trade with us," he wrote.
Mr Trump also told French President Emmanuel Macron of the need to "rebalance trade with Europe," the White House said.
The strong words followed swift responses to the tariffs by Canada, Mexico and the EU, which all plan to retaliate with levies on billions of dollars of US goods, including orange juice, whiskey, blue jeans and Harley-Davidson motorcycles.
Harley-Davidson's stock dropped 1.5% today. The Dow Jones Industrial Average and S&P 500 index rebounded from losses yesterday to trade about 1% higher. Among the gainers, shares of AK Steel rose 3.8% while US Steel added 3.4%.
We need your consent to load this rte-player contentWe use rte-player to manage extra content that can set cookies on your device and collect data about your activity. Please review their details and accept them to load the content.Manage Preferences
Brussels has lodged an eight-page list at the World Trade Organisation of goods it would hit with retaliatory measures.
This evening, Mr Trump said he might prefer to end the North American Free Trade Agreement (NAFTA), which the United States is renegotiating with Canada and Mexico, in favor of two bilateral agreements with its neighbours.
"I wouldn't mind seeing NAFTA where you go by a different name, where you make a separate deal with Canada and a separate deal with Mexico. Because you're talking about a very different two countries," Mr Trump told reporters.
At a meeting of the Group of Seven top world economic powers in Canada today, France's Finance Minister Bruno Le Maire castigated the United States for its tariffs, saying Washington was isolated.
"Unfortunately we are going to have a G6 plus one with the United States alone against everyone and running the risk of economic destabilisation," Mr Le Maire told reporters in Whistler, British Columbia.
Mr Trump imposed the tariffs in March as part of an effort to protect US industry and workers from what he described as unfair international competition, a key theme of his "America First" agenda.
Temporary exemptions were granted to a number of nations including Canada and Mexico as well as the EU. Yesterday, the United States decided to let those exemptions lapse.
Canada and Mexico, who are in stalled talks with the United States to redraw the North American Free Trade Agreement (NAFTA), responded swiftly.
Canada, the largest supplier of steel to the United States, said it will impose tariffs covering C$16.6bn on US imports, including whiskey, orange juice, steel, aluminium and other products.
The United States is "absurd" to impose tariffs on imports of steel and aluminum from Canada on the basis of national security, Canadian Finance Minister Bill Morneau said today.
"I expressed in strong terms our opposition to these tariffs in the steel and aluminum sector, our absolute view that this is absurd that Canada could in any way be a security risk," Mr Morneau told reporters when asked about a meeting with US Treasury Secretary Steven Mnuchin.
Mexico announced what it described as "equivalent" measures on a wide range of US farm and industrial products, including pork legs, apples, grapes, cheese, steel and other goods.
There are fears in Ireland that the escalating tensions between the US and EU could potentially devastate the Irish whiskey industry.
The EU's planned measures hit US exports running the gamut from big motorcycles like the Harleys, built on the home turf of US House of Representatives Speaker Paul Ryan, to "canoes", "manicure or pedicure preparations" and even "sinks and wash basins, of stainless steel" - the proverbial kitchen sink.
"We are determined to protect the multilateral system," EU Trade Commissioner Cecilia Malmstrom said of the WTO challenge. "We are expecting everybody to play by the rules."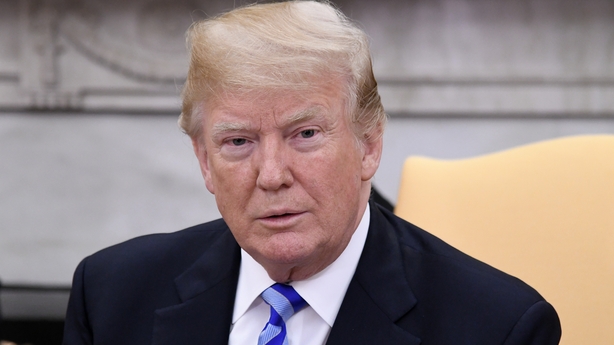 Mr Trump's tariffs on Washington's closest allies also drew condemnation at home from Republican lawmakers and the country's main business lobbying group and sent a chill through financial markets.
The steel and aluminium tariffs were imposed on the EU, Canada and Mexico from today.
US Commerce Secretary Wilbur Ross had called for more talks, but the EU's Malmstrom said the bloc's position had been that it would not negotiate unless "You take this gun away from us". That had not happened, so "now this door for the moment is closed".
For the EU, a decision on just how far to push back will require agreement among the 28 member states that make up the world's biggest trade bloc.
Germany, by far the biggest exporter to the United States, is keen to avoid a wider trade war, especially as the Trump administration has floated the prospect of tariffs on cars, which would potentially be devastating to German exporters.
Bruton says tariffs are not putting America first
We need your consent to load this rte-player contentWe use rte-player to manage extra content that can set cookies on your device and collect data about your activity. Please review their details and accept them to load the content.Manage Preferences
The former Taoiseach, and former EU Ambassador to the United States, John Bruton, has said that the tariffis introduced against Canada, Mexico and the EU are not putting America first but are creating the conditions which will put America last.
Speaking on RTÉ's Six One News, he said that that a motor car contains parts that have been produced in a number of countries and by introducing selective tariffs such as that on steel, Mr Trump is disrupting the global supply chains upon which American prosperity was built.
Mr Bruton said that right across the board from Climate Change to trade, the United States Administration is breaking up the rule-based system which had provided 50 years of prosperity.