A former newspaper editor has alleged that another editor at Independent Newspapers told her that Sgt Maurice McCabe was a paedophile.
Former Sunday Independent editor Anne Harris told the Disclosures Tribunal that the now Irish Independent editor, Fionnan Sheahan, made the remark to her in September 2014.
Mr Sheahan denies making the comment.
Ms Harris said Mr Sheahan was group political editor at the time and that he made the comment at the end of an editorial meeting.
She said she was shocked on hearing the remark and she thought Mr Sheahan believed he was stating a fact, rather than engaging in gossip.
Counsel for INM, Rossa Fanning, put it to Ms Harris that she was an external critic of INM and was happy to make the statement to the tribunal if it had negative consequences for senior editorial executives.
Ms Harris said that was absolutely without foundation. She said there was an editorial restructuring in June 2013 and a new pyramid structure put an editor-in-chief, Stephen Rae, at the top of that pyramid.
She agreed with Mr Fanning that she told nobody about the alleged comment and did not make a note of a conversation that she thought was shocking.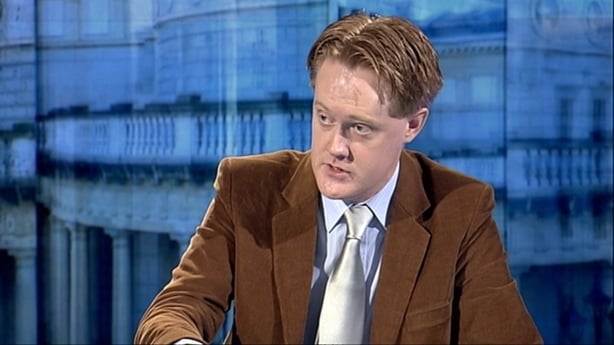 Mr Fanning said Mr Sheahan says he never had the conversation, he did not peddle the rumour and he never formed the view that Sgt McCabe was a paedophile.
He said Mr Sheahan would say she was making the allegation to damage his reputation. Ms Harris said she had no desire to do that.
Mr Fanning also suggested to Ms Harris that her evidence was tainted by an improper motive that she was bitter and bore a grudge towards Mr Sheahan and her former employer, INM.
Ms Harris said she bore absolutely no grudge and she was not bitter or disgruntled. She said she left INM happily after 30 years.
Ms Harris also alleged that a former group news editor, Ian Mallon, said to her sometime after April 2014 that there was something more to Sgt McCabe than met the eye, and asked if she knew about Sgt McCabe and children.
Mr Fanning said Mr Mallon says the allegation against him is untrue and that the allegations of child sexual abuse were well known as journalist Paul Williams had written about it.
Ms Harris said rumours about Sgt McCabe were "pervasive" in INM offices and she said she found out that the allegation was groundless and she shut down the conversations.
She said the purpose of the rumours was to stop Sgt McCabe making the allegations.
Journalist Gemma O'Doherty appears before tribunal
Meanwhile, journalist Gemma O'Doherty told the tribunal that she believes she lost her job with INM as a result of her support for Sgt McCabe's efforts to expose the penalty points controversy.
Ms O'Doherty gave evidence about her work on an article in April 2013 for the Irish Independent newspaper about former garda commissioner Martin Callinan having penalty points quashed.
The tribunal heard that Ms O'Doherty had gone to Mr Callinan's address on 11 April 2013 to verify that the person who lived there was the then garda commissioner.
In his evidence to the tribunal, Mr Callinan said he was upset that a journalist had called to his home and that he asked then garda press officer Supt David Taylor to contact the newspaper.
The tribunal has heard that Supt Taylor and then assistant commissioner John Twomey attended a meeting with INM representatives.
Ms O'Doherty told the tribunal today that it was her belief that Mr Callinan's upset was more to do with the fact that she had uncovered a story about him.
She said that in the days following the visit to Mr Callinan's home, she felt she was being ostracised at work and that she was severely reprimanded by management.
Ms O'Doherty said she had been told that Mr Callinan was extremely angry and that a number of executives had been called in to garda headquarters to explain how the situation had come to pass.
Ms O'Doherty settled a legal action for unfair dismissal against Independent Newspapers in December 2014.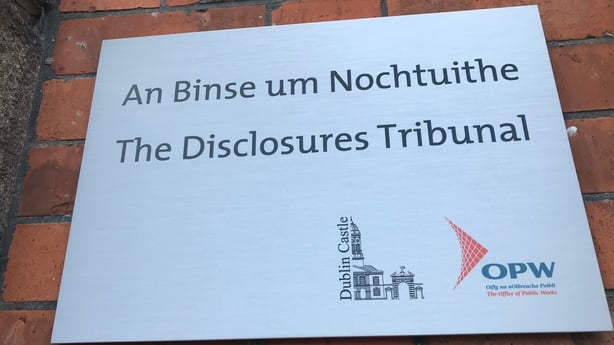 Lawyers for the tribunal pointed out to Ms O'Doherty that a story by her about the quashing of Mr Callinan's penalty points was published on 19 April 2013.
Ms O'Doherty said this was not the story she would have published, and that she did not think she had got the full facts from the gardaí about the situation.
The tribunal was shown a copy of email correspondence from 12 April 2013 between Ms O'Doherty and a number of senior editorial staff.
In one email, then managing editor Michael Denieffe agreed with remarks by Ms O'Doherty that the story about Mr Callinan was a "cracking yarn", and outlined the fact that she had not told editorial staff about her plan to visit Mr Callinan's address to verify it.
Mr Fanning put it to Ms O'Doherty that the email was temperate and measured.
She said the email may have been temperate but that the overall response from INM was far from temperate.
Mr Fanning said that Ms O'Doherty's suggestion that INM came down on her like a tonne of bricks was not borne out in evidence.
He put it to her that she was supported in pursuing the story about Mr Callinan by two senior staff.
Mr Fanning said that there were 29 job losses among editorial staff in INM as part of a redundancies plan announced in April 2013, and that six of these were involuntary.
Ms O'Doherty said she believed she was here at the tribunal because INM may have been instructed by garda management to relieve her of her duties.
She was also asked about her statement to the tribunal that there were rumours that Mr Williams had been given a garda file on the investigation into the 2006 Ms D allegation against Sgt McCabe.
Mr Williams denies this.
Tribunal Chair Mr Justice Peter Charleton asked Ms O'Doherty if she had any evidence for the claim.
Ms O'Doherty said it was her understanding that information had been given to Mr Williams about the Ms D case.
Rossa Fanning, laywer for INM, put it to Ms O'Doherty that she held animosity towards Mr Williams and had sought to propagate a rumour about him in relation to the file.
Ms O'Doherty said she did not bear any personal animosity towards Mr Williams.
Additional reporting Sinead Morris