An RTÉ exit poll on the referendum on the Eighth Amendment has projected a Yes vote of 69.4% with a No vote of 30.6%.
The sample size was 3,800 with a margin of error of +/- 1.6%.
The exit poll was conducted by RTÉ in conjunction with a number of Irish universities and was carried out by Behaviour & Attitudes.
A breakdown of the poll projects that 65.9% of men voted Yes, with 72.1% women voting in favour of repealing the amendment, which provides for the equal right to life of the mother and the unborn.
Among the 18-24 age group, the Yes vote is projected at 87.6%, while for 25-34 year olds it is 84.6%.
The Yes vote for 35-49 was 72.8% and 63.7% for 50-64.
The 65+ age group was the only one not to vote in favour of repeal, according to the poll's projections, with 58.7% voting No.
The regional breakdown shows that 79% of people in Dublin voted for repeal, with 67.2% in Leinster, 66.3% in Munster, and 62% in Connacht/Ulster.
The poll projects that the Yes vote in urban areas was 72.3% and 63.3% in rural areas.
RTÉ's David McCullagh has the projections from an RTÉ/Behaviour & Attitudes referendum exit poll pic.twitter.com/RovoEeSKbg

— RTÉ News (@rtenews) May 25, 2018
Further results and demographic breakdowns will be released at 8am tomorrow.
An exit poll for the Irish Times, carried out by Ipsos MRBI, has projected that 68% of voters have voted to repeal the Eighth Amendment.
Turnout is reported to be strong across the country, with some areas reporting figures above 70%.
Counting will begin tomorrow morning, with the result expected later tomorrow afternoon.
EXIT POLL for @IrishTimes projects 68% of voters have voted to repeal the Eighth Amendment pic.twitter.com/cdkKW0oLhF

— Ipsos MRBI (@IpsosMRBI) May 25, 2018
---
Read more
Read the full exit poll (in co-operation with political scientists based at UCD, UCC, DCU, and KU Leuven)
Exit polls a shock to political system
---
President Michael D Higgins and his wife Sabina cast their votes in Dublin at 9.30am, while Taoiseach Leo Varadkar voted in his constituency in west Dublin at around 11.15am.
Tonight, Mr Varadkar said: "Thank you to everyone who voted today. Democracy in action. It's looking like we will make history tomorrow."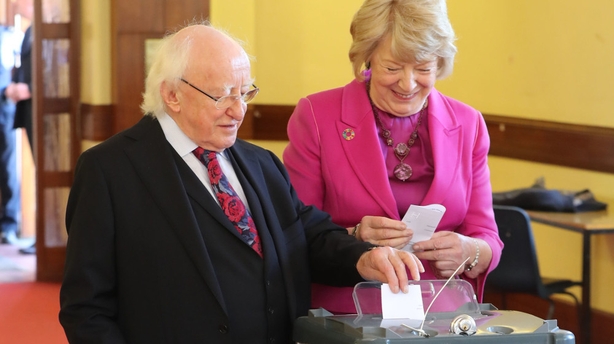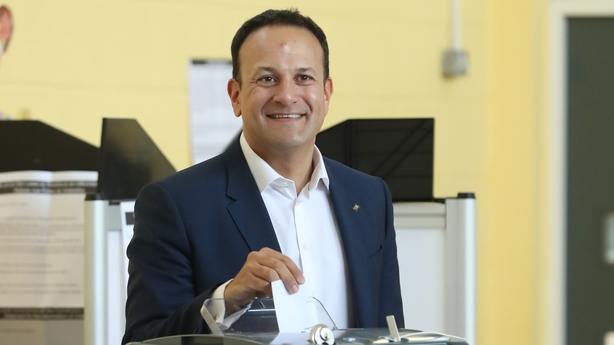 Fianna Fáil leader Micheál Martin voted in his constituency in Cork, while Sinn Féin leader Mary Lou McDonald cast her vote in Dublin.
Tonight, as the exit polls emerged, Mr Martin said: "If the exit polls are accurate, the view of our Republic is clear and we as an Oireachtas should move efficiently to enact the will of our people."
Ms McDonald said: "Thank you all of you who voted. I think we're about to prove we can change it for the better."
Tánaiste and Minister Foreign Affairs Simon Coveney, who advocated a Yes vote, said: "Thank you to everybody who voted today - democracy can be so powerful on days like today - looks like a stunning result that will bring about a fundamental change for the better. Proud to be Irish tonight."
😀 will sleep tonight in the hope of waking up to a country that is more compassionate, more caring and more respectful. It has been an honour to be on this journey with you and to work #togetherforyes . See you all tomorrow!

— Simon Harris TD (@SimonHarrisTD) May 25, 2018
A total of 3.3 million citizens were registered to vote, with 6,500 polling stations open across the country.
Around 2,000 voters in 12 islands off the mainland were eligible to vote yesterday to prevent any delay in counting their ballot papers.
Voters were asked to decide whether or not to replace or retain the Eighth Amendment, although such wording was not mentioned on the ballot paper.
Instead, they were asked whether or not they approved of a bill to delete the Eighth Amendment and insert new wording into the Constitution stating that "Provision may be made by law for the regulation of termination of pregnancy".
---
The RTÉ/B&A exit poll was organised in cooperation with political scientists based at University College Dublin, University College Cork, Dublin City University, and KU Leuven.