North Korea has dismantled its nuclear test site, according to media reports, in a planned move portrayed by the isolated regime as a goodwill gesture ahead of a potential summit next month with the US.
North Korea announced its plan to "completely" dismantle the Punggye-ri facility in the country's northeast, inviting some foreign journalists to witness the destruction.
Tunnels used for nuclear testing have been blown up, South Korean media reported, as part of steps that have reduced tension on the Korean peninsula and raised the possibility of a summit with the United States.
Yonhap news agency, citing South Korean pool reporters at the scene, said multiple explosions were heard throughout the day, beginning at 11am (4am Irish time) until 4.17pm local time.
North Korea has conducted all six of its nuclear tests at the Punggye-ri site, which consists of tunnels dug beneath Mount Mantap in the northeast of the country.
Experts are divided over whether the demolition will render the site useless.
Sceptics say the facility has already outlived its usefulness with six successful nuclear tests in the bag and can be quickly rebuilt if needed.
North Korea also did not invite any independent observers from overseas.
But others say the fact that North Korea agreed to destroy the site without preconditions or asking for something in return from Washington suggests the regime is serious about change.
UN Secretary-General Antonio Guterres said it was unfortunate that no international experts were on hand when North Korea blew up tunnels at its nuclear test site.

"It is regrettable that international experts were not invited to witness the site closing," a spokesman for Mr Guterres said in a statement.
Earlier, North Korea called US Vice-President Mike Pence "ignorant and stupid" for his warnings over a summit which had been planned with Donald Trump for next month.
Mr Trump was due to meet his North Korean counterpart Kim Jong-un in Singapore on 12 June, but today said it was cancelled.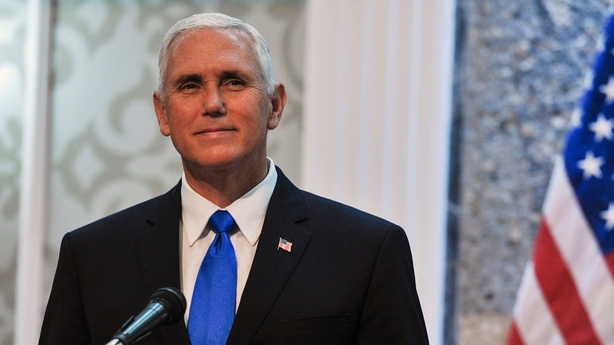 North Korean vice-minister of Foreign Affairs Choe Son Hui criticised an interview earlier this week in which Mr Pence warned Mr Kim that it would be a "great mistake" to try to play Mr Trump.
Mr Pence also said North Korea could end up like Libya, whose former leader Muammar Gaddafi was killed by US-backed rebels years after giving up atomic weapons, "if Kim Jong Un doesn't make a deal".
"I cannot suppress my surprise at such ignorant and stupid remarks gushing out from the mouth of the US Vice President," Ms Choe said in a statement released by the state-run KCNA news agency.
"We will neither beg the US for dialogue nor take the trouble to persuade them if they do not want to sit together with us," she said.
Similar comments comparing North Korea to Libya from Mr Trump's National Security Advisor John Bolton.
Mr Trump had also become increasingly lukewarm about meeting Mr Kim.
"On Singapore we'll see. It could very well happen," he said yesterday, adding: "Whatever it is, we'll know next week."
The US has made it clear it wants to see the "complete, verifiable and irreversible denuclearisation" of North Korea.
But Pyongyang has vowed it will never give up its nuclear deterrence until it feels safe from what it terms US aggression.