Residents on a number of islands off the west coast voted in the Referendum on the Eighth Amendment to the Constitution today.
Ballots were cast on 12 islands, with polling stations opening at different times during the day.
Residents on islands off counties Donegal, Mayo and Galway go to the polls a day ahead of the rest of the country to allow for all eventualities in getting their votes to count centres in time.
In the northwest, 743 residents are registered to vote on five islands off Co Donegal.
Polling stations on Toraigh (Tory Island), Inis Bó Finne (Inishbofin) and Gola Island opened at 11am and were due to close at 3pm.
A total of 234 voters are registered to vote on the three islands, with 142 people eligible on Toraigh, 63 on Inis Bó Finne and 29 on Gola. 
More than 500 people on Aranmore cast their ballots between 10.30am and 7pm, while the four people registered on Inishfree had a two-hour window to exercise their franchise between midday and 2pm.
In Co Mayo, arrangements were made for people living on Clare Island, Inishturk and Inishbiggle. Polls opened at 9am on all three islands and voting was due to close at 7pm.
---
Read more:
Referendum: The ballot paper explained 
A guide to the referendum
---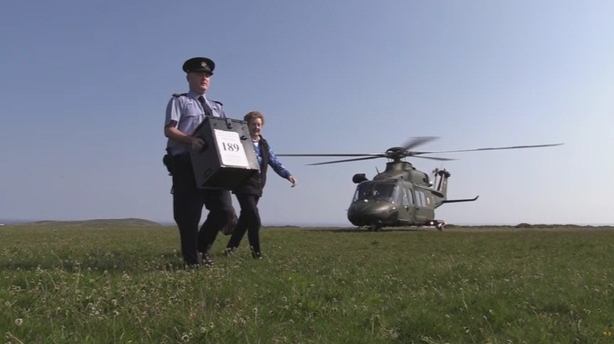 Further south, in Galway West, polling stations on Inishbofin, Inis Mór, Inis Meáin and Inis Oirr open from 7pm to 10pm.
Of the 1,200 people registered to vote on these islands, almost 700 live on Inis Mór.
Residents in a number of islands off the west coast are voting in the referendum today with a little help from the @IrishAirCorps | https://t.co/AVutWdocZs pic.twitter.com/nEhXITNP1h

— RTÉ News (@rtenews) May 24, 2018
Ballot boxes from all polling stations will be taken under garda escort to the local court office in each constituency tonight and will then be transferred to count centres tomorrow night in time for Saturday's count.
Special arrangements have also been made in recent days for people with a physical illness or disability and who are resident in hospitals or nursing homes.
Those on the Special Voters List can cast their ballots when a presiding officer, accompanied by a garda, visits the hospital or nursing home they live in, to facilitate voting.
Visually impaired voters will have the option of using a Ballot Paper Template to mark their ballot paper without assistance if they wish to do so.
Ballot Paper Templates are being used for the first time at this referendum and will be available at every polling station.
More than 3.2 million people are registered to vote in the referendum on the Eighth Amendment.
Figures released last night show that 118,389 have been added to the supplementary register by local councils.
RTÉ to broadcast exit poll on Late Late Show
Meanwhile, the results of an exit poll will be announced on RTÉ's Late Late Show and on the RTÉ News website tomorrow night.
The polling company will interview 3,000 people across the country immediately after they have voted.
The exit poll is being conducted by RTÉ in conjunction with a number of Irish universities, and will be carried out by Behaviour & Attitudes.
The overall Yes/No result will be announced tomorrow night, with further results and demographic breakdowns to be released at 8am on Saturday morning.
'No problem' with slogan jumpers
Dublin City's Returning Officer has said he has "no problem" with voters wearing jumpers, badges, pins and other discreet campaign emblems to polling stations tomorrow.
Speaking to RTÉ's Morning Ireland, James Barry said that voters can wear these items as long as they are not "intrusive and offensive".
Posters and banners are not permitted under any circumstances in a polling station, he said.
Mr Barry also said he wanted to remind campaigners that posters should be removed within 50m of polling stations tomorrow.
Mobile phones are allowed in booths but under "no circumstances" are people allowed to take photographs, including selfies.
Mr Barry also said that only the presiding officer and polling staff agents are allowed to ask people for ID at venues tomorrow.
Additional reporting: Jackie Fox, Ailbhe Conneely