"'I destroyed you'. And I said, what do you mean? And he kept saying, 'I destroyed you'".
Sergeant Maurice McCabe on what former head of the Garda Press Office, Supt Dave Taylor, told him during their meeting in the superintendent's house in September 2016.
Following that meeting, both men made protected disclosures. These were examined by a judge and led to the setting up of the Charleton Tribunal last year.
This week, Supt Taylor enters the witness box where he faces robust questioning for several days.
This entire section of the inquiry hangs on his allegations that he was directed by former garda commissioner Martin Callinan to brief the media negatively about Sgt McCabe and that former commissioner Nóirín O'Sullivan was aware of the campaign.
Both deny the allegations.
Back to September 2016 and that fateful meeting, Sgt McCabe told the tribunal that Supt Taylor appeared to be in bad shape.
He said the superintendent had been in touch with a spiritual person who had told him to confess.
What Sgt McCabe says he was told is explosive: An orchestrated smear campaign implicating the two highest police officers in an attempt to do down an officer who was speaking out.
Hundreds or even thousands of texts were sent to senior gardaí, journalists and politicians.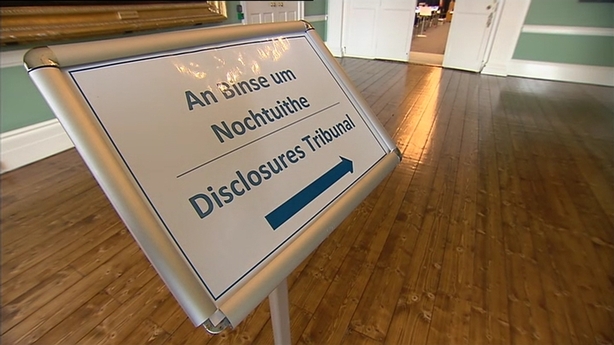 The sergeant says he was told Mr Callinan would compose texts for distribution and on receiving the text, Nóirín O'Sullivan would reply with one word: "perfect".
But a major conflict has arisen because Supt Taylor, in his protected disclosure, has said the negative briefing was never done by texts, emails or in writing. He says it was done orally.
However, there is one other witness, Fianna Fáil TD John McGuinness, who has also told the inquiry that Supt Taylor told him negative briefing was done by text.
Ahead of his appearance, Supt Taylor is under pressure. The tribunal has scoured phones, laptops and other devices.
No evidence has been found to back up the allegation of an orchestrated smear campaign. However, a number of phones and laptops are missing.
These include several that cover the time period he was in the press office. The tribunal has also heard that nobody else in the press office backs up his claims.
And there has been damaging evidence about the reason for his suspension from the force as a result of the criminal investigation into allegations of unauthorised disclosures of sensitive information.
The inquiry heard last week that he ran "a parallel press office" after he was transferred from that role.
So, Supt Taylor can expect tough questioning from lawyers for An Garda Síochána, as well as from the legal representatives for various journalists.
He is scheduled to be questioned for three days, although this could run longer. His evidence will be followed by that of his wife, Michelle.
Then, the tribunal will hear from former minister for justice Alan Shatter and then Martin Callinan.
With the stakes set high for the coming week, Mr Justice Peter Charleton's parting shot on Friday, was to urge all sides to maintain their decorum.