A demonstration has been held in Limerick to protest at plans by Irish Cement to burn used tyres and other types of waste at its facility in Mungret.
Locals believe the plan could result in harmful emissions.
Irish Cement says the proposal has no implications for public health.
An Bord Pleanála recently granted permission to the company to press ahead with its plans to burn thousands of tons of used tyres and other solid recovered waste at the plant just outside Limerick city.
The plan to burn the waste in its giant Kiln is part of a €10 million changeover from using fossil fuels.
However, local people living in Mungret, which is a growing residential suburb with a number of schools, are very concerned the plan could result in harmful emissions.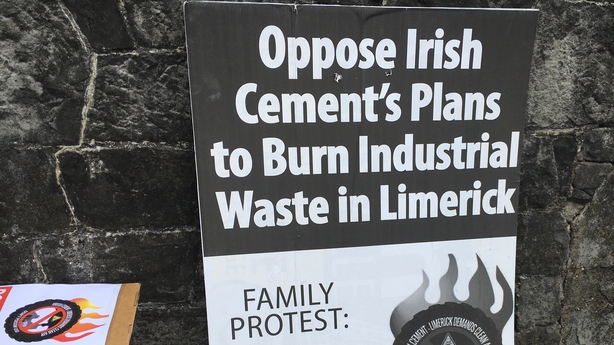 The Limerick Against Pollution (LAP) group, which is made up of concerned residents and others, is fighting the plan and today's march is the second such protest in the city as part of that campaign.
Irish cement says the burning of alternative fuels is in line with best practice in cement facilities across Europe and insists it has no implications for the environment and public health.
Up to 1,000 pple matched in Limerick opposing plans by Irish Cement to burn used tyres and other waste at its Mungret plant@rtenews pic.twitter.com/q8gQt0W5VU

— Cathy Halloran (@HalloranCathy) May 13, 2018