Israeli Prime Minister Benjamin Netanyahu has said Iran "crossed a red line" by firing rockets at Israeli forces from Syria, leading to major Israeli air strikes in the neighbouring country.
"Iran has crossed a red line. Our reaction was a consequence," the Israeli leader said in a video posted on social media.
"The Israeli army carried out an extensive attack against Iranian targets in Syria."
Israel's army said it had hit dozens of Iranian military targets in Syria overnight after rockets fired towards its forces were blamed on Iran.
It marks a sharp escalation between the two enemies.
Iran has not claimed responsibility for the rocket fire.
The incident came after weeks of rising tension and followed US President Donald Trump's decision to withdraw from the Iran nuclear deal on Tuesday, a move Israel had long advocated.
It was one of the largest Israeli military operations in recent years and its biggest such raid against Iranian targets, the military said.
Israel carried out the raids after it said around 20 rockets were fired from Syria at its forces in the occupied Golan Heights at around midnight.
It blamed the rocket fire on Iran's Al-Quds force, adding that Israel's anti-missile system intercepted four of the projectiles while the rest did not land in its territory.
No Israelis were wounded. If confirmed, the incident would be the first such rocket fire by Iranian forces in Syria towards Israel.
"We know that comes from the al-Quds force," army spokesman lieutenant-colonel Jonathan Conricus said, referring to the special forces unit affiliated with Iran's Revolutionary Guard.
"The Israeli army takes very seriously this Iranian attack against Israel."
In the early hours of the morning, explosions were heard in Damascus, while live images were broadcast on television showing projectiles above the Syrian capital and several missiles destroyed by Syrian anti-aircraft systems.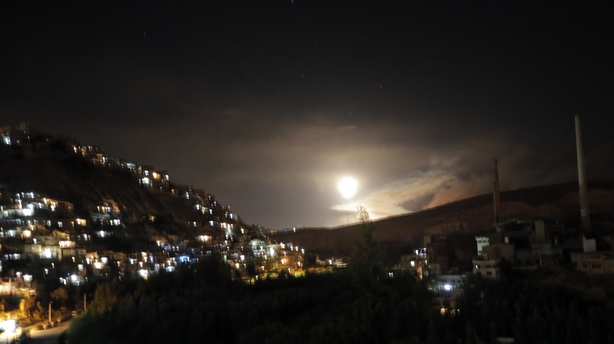 Syrian state media reported that Israeli missile strikes hit military bases as well as an arms depot and a military radar installation, without specifying the location.
There has been no comment from Iranian officials.
#UPDATE Israel says it has hit dozens of Iranian military targets in Syria, including the origin of a rocket attack on the Israeli army in the Golan Heights@AFP map locating reported air strikes on May 10 pic.twitter.com/0bNY3Mit4n

— AFP news agency (@AFP) May 10, 2018
The official SANA news agency added that "dozens of missiles were shot down by anti-aircraft systems in Syrian airspace", saying a number of missiles had reached their targets.
Russia's defence ministry said Syria had shot down more than half of the missiles fired at it overnight, RIA news agency reported.
Israel's military later confirmed it had carried out the raids, saying dozens of Iranian military targets had been struck and all of its aircraft had returned safely.
---
'Business as usual' for Irish troops in Golan Heights
The Commanding Officer of the Irish Defence Forces unit in the Golan Heights has said it is "business as usual" for the 150 staff in Camp Ziouani, despite escalating tensions in the region between Israeli and Iranian military overnight.
Lieutenant Colonel Mark Brownen told RTÉ's News at One that alarm sirens and a lot of explosions were heard before midnight north of the camp.
We need your consent to load this rte-player contentWe use rte-player to manage extra content that can set cookies on your device and collect data about your activity. Please review their details and accept them to load the content.Manage Preferences
Lieut Brownen said people were put in bunkers and staff were put in drills to man facilities and equipment to react to any situation that occurred.
He said the unit worked to support unarmed outposts during the night and he praised the Irish staff for their efforts.
Lieut Brownen said the unit continues today to put into practice drills and training as that is "what keeps us safe and mitigate against circumstances" that may arise.
---
Mr Conricus said intelligence, logistics, storage and vehicles, as well as the origin of the rockets, were targeted.
Syrian air defences that fired dozens of times on Israeli forces were also targeted, he said.
"We are not looking to escalate the situation," Mr Conricus said, but warned Israel would respond forcefully if attacked.
The Israeli military said: "This Iranian aggression is another proof of the intentions behind the establishment of the Iranian regime in Syria and the threat it poses to Israel and regional stability."
It added that it "will not allow the Iranian threat to establish itself in Syria. The Syrian regime will be held accountable for everything happening in its territory".
Israel has been warning for weeks that it will not accept Iran entrenching itself militarily in neighbouring Syria, where Tehran is supporting President Bashar al-Assad's forces in the country's seven-year civil war.
Israel has been blamed for a series of recent strikes inside Syria that have killed Iranians, but it did not acknowledge those raids.
It does acknowledge carrying out dozens of raids in Syria to stop what it says are advanced arms deliveries to Iran-backed Hezbollah, another key foe of Israel.
Israel had been preparing itself for weeks for possible Iranian retaliation.
The situation is calm in the areas where Irish personnel are deployed in @UNDOF on the Golan Heights and @defenceforces will continue to monitor. Our priority is always the safety and security of our personnel. https://t.co/Eo3ddexBEU

— DF Chief of Staff (@DF_COS) May 10, 2018
Mr Trump's withdrawal from the nuclear deal has added to tensions and led to a new level of uncertainty over how Iran will respond.
Yesterday, Israeli Prime Minister Benjamin Netanyahu held talks in Moscow with Russian President Vladimir Putin, whose country has provided massive military and diplomatic backing to Mr Assad.
Mr Netanyahu and Mr Putin have held a series of meetings and telephone conversations in recent months, particularly regarding Syria.
The two countries have established a hotline to avoid accidental clashes in the war-torn country.
In February, Israel accused Iranian forces at the T-4 base in central Syria of sending a drone into Israeli territory.
After targeting Iranian units in Syria in retaliation, an Israel F-16 was shot down by Syrian anti-aircraft fire in one of the conflict's most notable escalations.
Israel then carried out what it called "large-scale" raids on Syrian air defence systems and Iranian targets, which reportedly included T-4.
Israel later said the drone had been armed.