Oliver North, a key figure in the Iran-Contra scandal under then US president Ronald Reagan, is to be the next president of the National Rifle Association.
The US gun lobby says the 74-year-old former US army colonel will take over as president in the next few weeks.
While serving on the National Security Council in the 1980s, Mr North was involved in the sale of weapons to Iran, despite an arms embargo on that country.
The Reagan administration hoped the sale would help facilitate the release of Americans held hostage in Lebanon.
Profits from the weapons sales were funnelled to anti-Sandinista rebels, the Contras, in Nicaragua.
Mr North was convicted on three charges in 1989, but his conviction was subsequently overturned.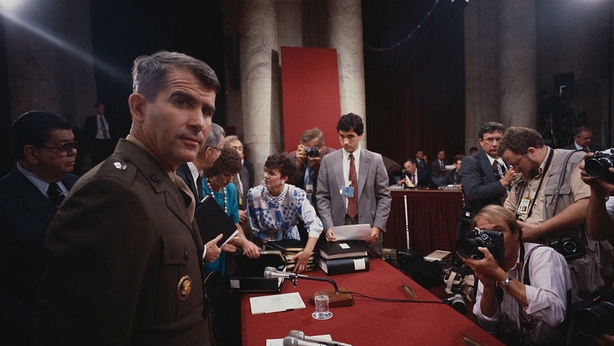 NRA executive vice president and CEO Wayne LaPierre welcomed Mr North's appointment.
"This is the most exciting news for our members since Charlton Heston became president of our association," Mr LaPierre said in a statement.
Mr North has written several best-selling books and worked as a conservative commentator on Fox News since retiring from the US Marine Corps as a lieutenant colonel.
He is leaving Fox "effective immediately", according to the NRA.
His appointment to head the NRA comes as a student-led movement for stricter gun laws gathers momentum in the United States.
The grassroots campaign for gun control was launched by students at a Florida high school where 14 students and three adults were shot dead by a troubled former classmate in February.
President Donald Trump rejected calls for tighter gun laws in a speech to the NRA's annual meeting last week.