US President Donald Trump repeatedly complained to FBI director James Comey in early 2017 that the Russia meddling investigation was a cloud over his administration, weeks before firing him, leaked memorandums showed.
Mr Trump "said he was trying to run the country and the cloud of this Russia business was making that difficult," Mr Comey wrote in a memo on a conversation they had on 30 March 2017.
Eleven days later, Mr Trump again pressed Mr Comey about the issue.
The president told Mr Comey that "he is trying to do work for the country, visit with foreign leaders, and any cloud, even a little cloud, gets in the way of that," Mr Comey wrote, referring to "the Russia thing".
We need your consent to load this rte-player contentWe use rte-player to manage extra content that can set cookies on your device and collect data about your activity. Please review their details and accept them to load the content.Manage Preferences
The memos, which Mr Comey wrote immediately after several meetings with Mr Trump in the weeks after his inauguration on 20 January 2017, depict a president deeply worried about the impact of the probe into Russian meddling in the election the previous year.
Obtained by AFP after the US Justice Department released them to Congress, the memos could become evidence in a criminal investigation into whether Mr Trump consciously tried to obstruct the probe.
However in a post on Twitter, Mr Trump said that the memos show "there was NO COLLUSION and NO OBSTRUCTION."
James Comey Memos just out and show clearly that there was NO COLLUSION and NO OBSTRUCTION. Also, he leaked classified information. WOW! Will the Witch Hunt continue?

— Donald J. Trump (@realDonaldTrump) April 20, 2018
Mr Comey makes clear in his memos that he was uncomfortable with the pressure and that it was not completely proper, though at the time he did not allege the president had broken any laws.
But Mr Comey never committed to easing off the investigation, which continues to examine a number of suspicious contacts between the Trump campaign and Russia.
Weeks after their last conversation, on 9 May, Mr Trump fired Mr Comey, saying in an interview two days later that he decided to dismiss the FBI chief in part out of unhappiness over the Russia probe.
"In fact, when I decided to just do it, I said to myself, you know, this thing with Trump and Russia is a made-up story, an excuse by the Democrats for having lost an election.
"In my opinion, it should've been over with a long time ago."
Much of what is in the memos, most notably Mr Trump's demand that Mr Comey pledge his loyalty, has been known for nearly a year.
Mr Comey wrote that the president repeatedly raised the still-unconfirmed story that Russians have a video of him with prostitutes in a Moscow hotel.
"The president said 'this hookers thing' is nonsense," Mr Comey wrote.
However, Mr Trump also said "that Putin had told him, 'We have some of the most beautiful hookers in the world'," Mr Comey noted.
Former New York mayor Rudy Giuliani joins Trump legal team
Former New York mayor Rudy Giuliani, a one-time federal prosecutor, is joining US President Donald Trump's personal legal team.
Mr Trump's lawyer Jay Sekulow quoted the president as saying. "He has been my friend for a long time and wants to get this matter quickly resolved for the good of the country."
Mr Giuliani was one of three attorneys Mr Sekulow said were being added to the president's legal team dealing with Special Counsel Robert Mueller's investigation into Russian interference in the 2016 election.
Russia has denied meddling in the election.
Mr Trump has said there was no collusion and has called the Mueller probe a "witch hunt".
Mr Sekulow also announced south Florida husband-and-wife defence lawyers Martin and Jane Raskin were joining the president's legal team.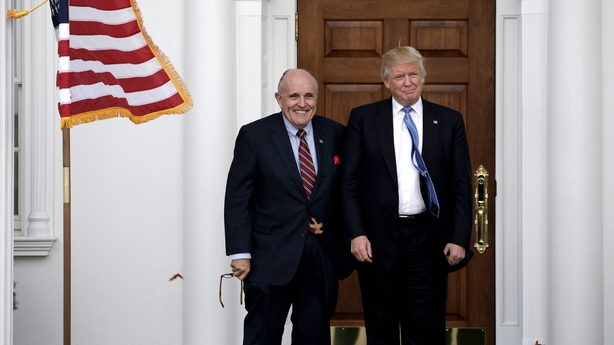 Mr Giuliani had a storied career as a federal prosecutor before becoming mayor of New York in 1994 and achieved wide respect for his leadership when the city was attacked on 11 September 2001.
But his often hard-bitten remarks in recent years, some made in support of Mr Trump's candidacy, have drawn criticism.
During the 2016 campaign, he claimed there had not been "any successful radical Islamic attacks in the United States" in the eight years before former president Barack Obama took office, seeming to forget the 2001 attacks, when nearly 3,000 people died.
Mr Trump's legal worries have recently expanded beyond the Mueller probe to include a criminal investigation in New York of the president's personal lawyer Michael Cohen, whose home and offices were raided by the FBI on 9 April.
The Manhattan US Attorney's Office, which is overseeing the Cohen investigation, is headed by Geoffrey Berman, a former law partner of Mr Giuliani's at the firm of Greenberg Traurig.