US President Donald Trump has confirmed that the United States is having direct talks at "extremely high levels" with Pyongyang to try to set up a summit with North Korean leader Kim Jong-un.
President Trump made the comment as he opened two days of talks with Japanese Prime Minister Shinzo Abe at the president's Mar-a-Lago resort in Palm Beach, Florida.
Prime Minister Abe secured an agreement from President Trump to bring up the issue of Japanese nationals abducted by North Korea during any future summit.
Mr Trump said US officials are looking at five different locations for a late-May or early-June meeting with Mr Kim. Asked if any of those were in the United States, Mr Trump said 'no'.
Mr Trump said: "We have had direct talks at very high levels, extremely high levels, with North Korea. And I really believe this allows good will, that good things are happening. We'll see what happens."
Mr Trump and Mr Abe are holding two days of talks largely focused on the prospective summit with North Korea as Japan seeks a US commitment that any denuclearisation deal will include not just long-range missiles but those that could be aimed at Japan.
Mr Trump said it was possible that diplomatic efforts to arrange a summit will fall short.
"It's possible things won't go well and we won't have the meetings and well just continue to go on this very strong path we have taken," he said.
Mr Trump also backed efforts between South Korea and the North aimed to end a state of war that has existed between the two countries since 1953.
"They do have my blessing to discuss the end of the war. People don't realise the Korean War has not ended. It's going on right now. And they are discussing an end to the war. Subject to a deal they have my blessing and they do have my blessing to discuss that," he said.
Mr Abe said Japan would like North Korea to agree to a complete, verifiable denuclearisation and that Mr Trump had shown "courage" in attempting to set up a summit.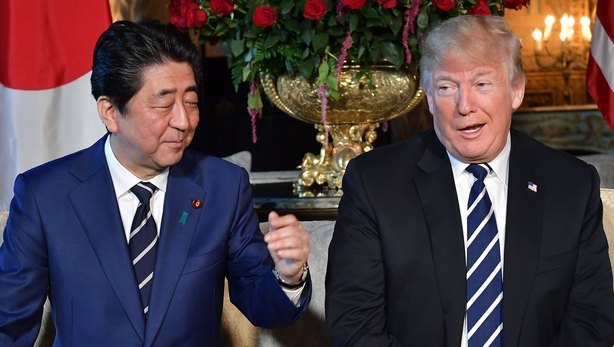 Both leaders could use a successful summit to give themselves a political boost at home.
Mr Trump has been hounded by controversies linked to an investigation into Russian meddling in the 2016 election, and Mr Abe is struggling with declining popularity because of scandals over suspected cronyism.
Trade agenda
Japan fears President Trump will try to link vital security matters with trade issues.
Tokyo is eager to avoid being pushed into talks on a two-way free trade agreement aimed not only at market access but at currency policies, something South Korea recently accepted when it renegotiated a trade deal with the United States.
Another key trade issue is that Japan has not been given an exemption to tariffs on steel and aluminum exports to the United States, unlike the European Union, Canada and Mexico.
While Mr Trump has said he prefers bilateral trade deals over multilateral ones, he recently instructed United States Trade Representative Robert Lighthizer and White House economic adviser Larry Kudlow to reopen talks for the United States to enter the Trans-Pacific Partnership (TPP).
Mr Trump pulled out of that pact when he took office last year, but said recently he was open to rejoining on better terms. The 11 other countries in the TPP talks pressed ahead after Washington dropped out.