A senior Facebook executive has apologised at an Oireachtas Committee for the company's role in the Cambridge Analytica scandal.
Joel Kaplan is appearing before the Oireachtas Joint Committee on Communications, Climate Action and Environment over the use of social media and its potential influence on previous and future elections and referendums.
Addressing the committee, Mr Kaplan said what had happened represented a huge violation of trust and the company is deeply sorry.
He said the company knows it has a responsibility to the Facebook community and that people will only feel comfortable using its service if their data is safe.
He said it was clear that Facebook did not do enough to prevent its tools from being used for harm and that it did not take a broad enough view of its responsibility, which was a mistake.
Mr Kaplan also outlined developments that Facebook had already and is currently implementing to ensure user data is secure.
He revealed that Facebook is to expand a pilot of a tool that will increase transparency around ads on the platform to Ireland ahead of the forthcoming referendum on the Eighth Amendment.
The View Ads feature is already being trialled in Canada following its launch there earlier this year and the company intends to roll it out globally from the summer.
The tool, which will be available in Ireland from 25 April, will let users here see all ads that an advertiser is running on the platform at the same time, even if they are not appearing in that users News Feed.
They will be able to do this by clicking on an advertiser's page, selecting the "About" section and then choosing "View Active Ads".
However, the tool will not provide detailed information, like for example who is paying for the ads, or who the ads are being targeted at and the reach they are achieving. It also will not be searchable.
Further tools are being developed by Facebook that will enable this type of functionality but they will not be ready until mid-summer.
---
Read: What is Cambridge Analytica?
---
Mr Kaplan said they appreciated the concerns over interference in elections and the distortion of the democratic process, saying a lot was learned from the 2016 US election and Brexit.
He also said they are doubling their personnel dedicated to safety and security from 10,000 to over 20,000 with a 'big focus on election integrity'.
Niamh Sweeney, Head of Public Policy for Facebook Ireland, said that what happened with Cambridge Analytica could not happen again; acknowledging that this was of little comfort to those whose data was used by the company.
"If you are an app developer, you get very, very limited information now. We made a big change in 2014 to cut out friend's data. If a developer wants to request further data, they have to make a business case to us first," she said.
Several TDs and Senators asked Mr Kaplan why privacy settings could not be set at their highest by default.
Mr Kaplan pledged that the company would never sell individuals' data.
"We don't sell people's data. It's actually core to our business model never to sell people's data, because people trust us with their data, we know we have to rebuild people's trust," he said.
Ms Sweeney told the committee that users own their data, and can download it and delete it.
"You own all of the data you share with Facebook, you can take it back at any time, you can delete it," she said.
She also said individuals can access their ad preferences, showing interests the company has appended to profiles based on activity off-platform, if the user has not turned off third party data.
Mr Kaplan said: "We agree that, when it comes to advertising on Facebook, people should be able to see all the ads that a page is running - and when it comes to political ads, all advertisers should be verified and any ads that they run should be clearly labeled to show who paid for them."
Fianna Fáil TD James Lawless told Mr Kaplan that he found it hard to believe that the company did not have any inkling about what had happened with Cambridge Analytica, and that they only found out after the revelations in the media.
Mr Kaplan said their security staff were very attuned to the noting of state actor interference, including Russian interference, but they were focused on the more traditional types of cyber warfare, such as hacking and malware.
He said: "It wasn't until after the 2016 elections that we began to hear reports of Russian interference."
Sinn Féin TD Brian Stanley said most in political life had been victims of fake accounts, where information is put up about people in public life.
"At what point does Facebook intervene?" Deputy Stanley asked.
Fine Gael Senator Joe O'Reilly said he too was the target of fake accounts.
"The use of fake accounts is a horror and needs policing. People watching need reassurance on that score," he said.
Solidarity-PBP TD Brid Smith welcomed the announcement of the new transparency tools, but said this should happen straight away.
Mr Kaplan said the company has devoted tremendous resources to address concerns over election integrity.
He also said they were investing in artificial intelligence tools to try and target fake accounts and remove them before they are uploaded.
Commissioner discusses Facebook data revelations
Earlier, the Data Protection Commissioner said recent revelations around the use of Facebook data had shone a spotlight on "the undoubted asymmetries" arising from the inequality of resources available to big corporations versus ordinary users, where these organisations collate, control and utilise big data consisting of personal data.
Helen Dixon said public consciousness of the risks to individual rights to autonomy and self-determination resulting from these asymmetries and these types of processing of personal data is growing.
The demand for greater control and transparency will be provided for under the incoming EU General Data Protection Regulation (GDPR), which comes into force on 25 May, she added.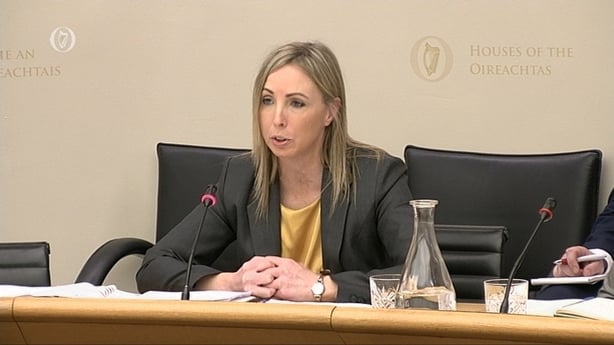 Answering questions from TDs and senators, Ms Dixon confirmed that once a user had left the Facebook environment they continue to be tracked by the social network.
She said there are means by which users can switch off tracking, but the default is that it is on. She added that these issues are under active examination by her office in consultation with Facebook.
Speaking about the use of social media in elections, Ms Dixon said it is important users who engage in online platforms and consume news online do engage with control settings.
She said that, if they choose to receive interest-based internet ads, they should be aware that they could be the subject of ads pushing them one specific direction.
She also suggested that they be sure to consume other types of news from different publishers rather than relying solely on online news sources.
The commissioner also expressed the view that data protection laws and GDPR are strong enough to prohibit what should be prohibited in terms of personal data processing around elections.
Ms Dixon said there are a number of ways users can use controls and granular settings in order to ultimately switch off internet based ads.
She agreed that to date they have not been as accessible and easy to use as necessary.
However, she said her office has high hopes that the GDPR might help to change that.