In his Easter address, Pope Francis has called for peace in the Holy Land two days after 15 Palestinians were killed on the Israeli-Gaza border, saying the conflict there "does not spare the defenceless".
The pope made his appeal during his annual "Urbi et Orbi" message from the central balcony of St Peter's Basilica in Rome where tens of thousands of people gathered in the square below.
He also appealed for an end to the "carnage" in Syria, calling for humanitarian aid to be allowed to enter, and for peace in South Sudan and the Democratic Republic of Congo.
Pope Francis appeared to refer directly to the Gaza violence last Friday, calling for "reconciliation for the Holy Land, also experiencing in these days the wounds of ongoing conflict that do not spare the defenceless."
The Pope also called for peace for "the entire world, beginning with the beloved and long-suffering land of Syria, whose people are worn down by an apparently endless war."    
Pope Francis called for international assistance for Venezuela, so that more people would not have to abandon their homeland due to the economic and political crisis.
He hoped the "fruits of dialogue" would advance peace and harmony on the Korean peninsula, where the two sides are set to hold their first summit in more than a decade on 27 April, after North Korean leader Kim Jong-un pledged his commitment to denuclearisation.
Francis, who was celebrating his sixth Easter as Roman Catholic leader since his election in 2013, called for people to work for an end to the "so many acts of injustice" in the world.
He prayed that Jesus' message "bears fruits of hope and dignity where there are deprivation and exclusion, hunger and unemployment, where there are migrants and refugees – so often rejected by today's culture of waste - and victims of the drug trade, human trafficking and contemporary forms of slavery".
Last night, Pope Francis led an Easter vigil service, baptising eight adults, including a formerly undocumented Nigerian migrant who became a hero when he disarmed an Italian thief wielding a cleaver.
The baptism took place during a long Holy Saturday mass for some 10,000 people in St Peter's Basilica.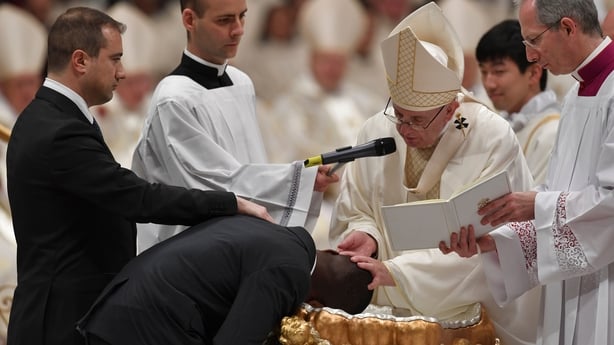 The church was dark at the start of the service before lights were turn on, signifying the passage from darkness to light when the Bible says Jesus rose from the dead.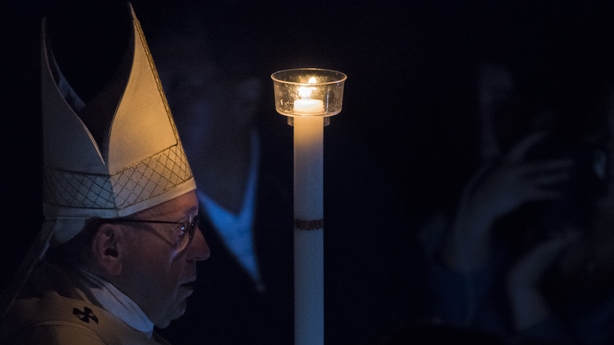 The pope traditionally welcomes new members of the Church during the Saturday night service.
This year, among those he baptised was John Ogah, 31, who Italian newspapers last year dubbed the "migrant hero" and held up as an example of bravery and good citizenship.
Mr Ogah was begging for change outside a supermarket in a Rome neighbourhood where many migrants live last September when he stopped a 37-year-old Italian who had just held up the store a cleaver and was getting away with about €400.
The Nigerian, who did not have permission to stay in Italy, held the man down until police arrived and then left the scene, fearing that he would be discovered to have no documents, according to La Repubblica newspaper.
Police using footage from surveillance cameras tracked him down and rewarded him by helping him get legal permission to stay in the country. Ogah, who has been helped by an Italian Carabinieri police captain to get his immigration papers, now works as a stockman at a warehouse for a charity organisation.
Pope Francis has made defence of migrants a key part of his papacy.