At least seven companies have said they are dropping advertisements from Laura Ingraham's Fox News show after the conservative pundit mocked a teenage survivor of the Florida school massacre.
Parkland student David Hogg tweeted a list of a dozen companies that advertise on "The Ingraham Angle" and urged his supporters to demand that they cancel their ads.
The 17-year-old is a survivor of the 14 February mass shooting that killed 17 people at Marjory Stoneman Douglas High School in the Parkland suburb of Fort Lauderdale.
He and other classmates have become the faces of a new youth-led movement calling for tighter restrictions on firearms.
He took aim at Ms Ingraham's advertisers after she taunted him on Twitter on Wednesday, accusing him of whining about being rejected by four colleges to which he had applied.
Yesterday, she tweeted an apology "in the spirit of Holy Week," saying she was sorry for any hurt or upset she had caused the teenager or any of the "brave victims" of Parkland.
"For the record, I believe my show was the first to feature David ... immediately after that horrific shooting and even noted how 'poised' he was given the tragedy," Ms Ingraham tweeted.
But her apology did not stop companies from departing.
Nutrish, the pet food line created by celebrity chef Rachael Ray, travel website Trip Advisor Inc, online home furnishings seller Wayfair Inc, the world's largest packaged food company, Nestle SA, online streaming service Hulu, travel website Expedia Group Inc and online personal shopping service Stitch Fix all said they were canceling their advertisements.
Any student should be proud of a 4.2 GPA —incl. @DavidHogg111. On reflection, in the spirit of Holy Week, I apologize for any upset or hurt my tweet caused him or any of the brave victims of Parkland. For the record, I believe my show was the first to feature David...(1/2)

— Laura Ingraham (@IngrahamAngle) March 29, 2018
Wayfair said in a statement it supports dialogue and debate, but "the decision of an adult to personally criticse a high school student who has lost his classmates in an unspeakable tragedy is not consistent with our values".
Replying to the boycott call, Nutrish tweeted: "We are in the process of removing our ads from Laura Ingraham's program."
Responding to public pressure, Nestle wrote on Twitter that it had "no plans to buy ads on the show in future".
Hulu said on Twitter: "We'd like to confirm that we are no longer advertising on Laura Ingraham's show and are monitoring all of our ad placements carefully."
CNBC cited a Trip Advisor spokesman as saying the company does not condone "inappropriate comments" by Ms Ingraham that "cross the line of decency".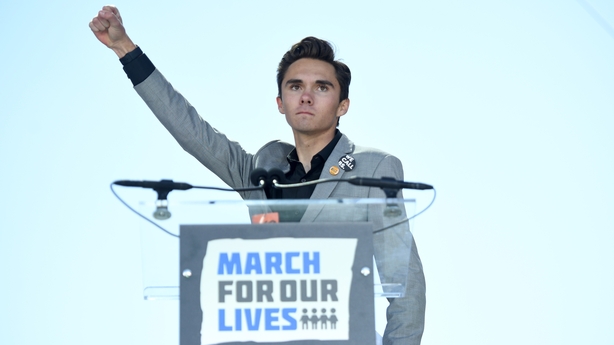 David Hogg took refuge in a closet during the school shooting, and despite the terrifying circumstances, filmed interviews with fellow students while in hiding, which went viral.
He became one of the most visible student leaders in the movement calling for stricter firearms regulations, which has been driven by Parkland survivors.
The teenager has been attacked and harassed online, and even accused of being a "crisis actor" paid to travel to tragedies to propagate liberal viewpoints.
More than a million Americans turned out on Saturday for nationwide protests to demand action on gun control.