The EU and Turkey failed to reach any "concrete solutions or compromises" in talks aimed at patching up their tattered relations, EU President Donald Tusk said after the meeting.
"If you are asking me if we achieved some solutions or compromises, my answer is no," Mr Tusk said.
He was speaking in Bulgaria following the talks with Turkish President Recep Tayyip Erdogan and European Commission chief Jean-Claude Juncker.
"What can I say is that I raised all our concerns. As you know, it was a long list including the rule of law and press freedom in Turkey, and Turkey's bilateral relations with member states, also the situation in Syria," he said.
"Our meeting was dedicated to continue our dialogue and we agreed that ... we should continue our dialogue in really difficult circumstances.
"My position is clear, only progress on these issues will allow us to improve EU-Turkey relations including the accession process."
President Erdogan reiterated comments from earlier in the day that his country still wanted to join the EU, but said he did not want "unfair criticisms".
"We hope that we have left a very difficult period behind in Turkey-EU relations behind us.
"We don't want rambling or unfair criticisms on sensitive issues like the fight against terror, we expect strong support," he said.
Relations have worsened - and Turkey's prospects of joining the EU have become more remote - in the wake of Mr Erdogan's crackdown following an attempted coup against him in 2016.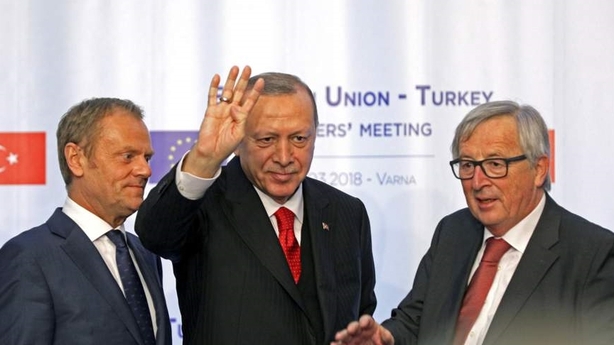 Turkey's ongoing military operations against Kurdish forces in northern Syria have also raised concerns in European capitals.
Temperatures were also raised further last week after EU leaders condemned Turkey's "illegal actions" towards Greece and Cyprus in the eastern Mediterranean and the Aegean Sea.
Turkey remains an important ally in the US-led NATO alliance, the fight against Islamic militants and as a destination for many Syrians fleeing war.
Turkey shares borders with Iraq and Syria, as well as influence with Russia in the Black Sea region, but the EU is still its biggest foreign investor and trading partner.
EU leaders cited these geostrategic interests as common ground for greater cooperation with Turkey, despite differences.
"While our relationship is going through difficult times, in areas where we do cooperate, we cooperate well," Mr Tusk told reporters.