A new opinion poll indicates that support for Fianna Fáil has dropped over the past month.
The Sunday Business Post/Red C poll gives Fine Gael a nine-point lead over Fianna Fáil, the biggest lead for the party in a Red C poll since the run-up to the 2016 General Election.
Compared to last month, the main findings in the latest Sunday Business Post poll sees Fine Gael up one point to 33%.
Fianna Fáil is down five points to 24%.
Besides the movement for the two main parties, the poll finds that the Independent Alliance has fallen to 1%, the lowest level of support ever recorded for the group in a Red C poll.
There is a boost in support for Sinn Féin which goes up 2 points to 16%.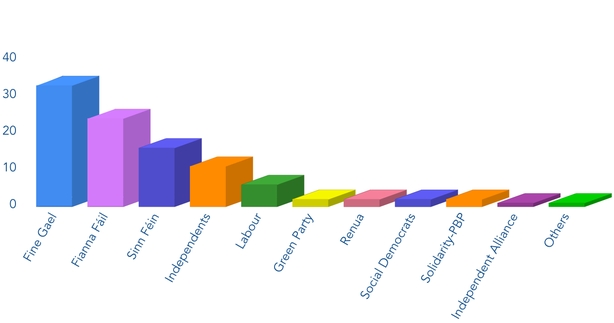 Independents are unchanged on 11% while Labour is also unchanged on 6%.
The Green Party remain on 2%, with Renua up one point to 2%.
Social Democrats are unchanged on 2% while Solidarity-People Before Profit are up one point to 2%.
Most of the fieldwork for this poll was carried out before the Dáil voted for legislation allowing for a referendum on the Eighth Amendment.
The findings suggest the controversy over Taoiseach Leo Varadkar's remarks in relation to US President Donald Trump's Doonbeg golf resort did not impact negatively on Fine Gael.
The poll was conducted among 1,000 voters nationwide between 15-22 March.
It has a margin of error of plus or minus 3%.