US President Donald Trump has said there has been progress with North Korea but declined to say whether he has preconditions for any talks with Pyongyang.
"We have come certainly a long way, at least rhetorically, with North Korea", he told reporters at the White House.
"The statements coming out of South Korea and North Korea have been very positive. That would be a great thing for the world", he added.
Earlier, South Korea said North Korea is willing to hold talks on denuclearisation.
Pyongyang has also said it will suspend nuclear tests while discussions are under way with the US.
China encouraged North and South Korea to continue their reconciliation efforts after a delegation from the South met with the North's leader, Kim Jong-un.
"Possible progress being made in talks with North Korea", Mr Trump wrote in a Tweet.
"For the first time in many years, a serious effort is being made by all parties concerned. The World is watching and waiting! May be false hope, but the US is ready to go hard in either direction!"
Vice President Mike Pence has said the US remains committed to applying maximum pressure against North Korea, a position that will not change until Pyongyang takes steps toward denuclearisation
There was no immediate comment from North Korea.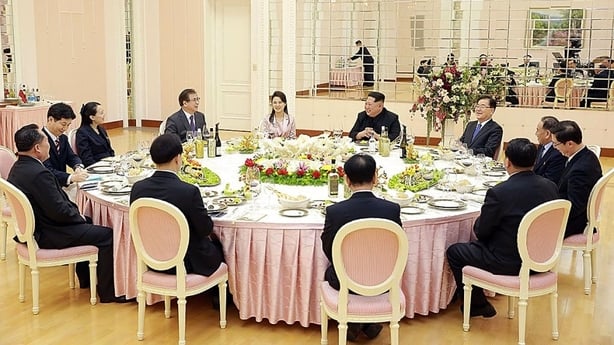 "North Korea made clear its willingness to denuclearise the Korean peninsula and the fact there is no reason for it to have a nuclear programme if military threats against the North are resolved and its regime is secure," the head of the South Korean delegation, Chung Eui-yong, told a media briefing.
The two sides will hold their first summit in more than a decade next month at the border village of Panmunjom, Mr Chung added.
The last inter-Korean summit was in 2007 when late former president Roh Moo-hyun was in office.
North and South Korea are experiencing a significant easing in tensions since the Winter Olympics in the South last month, even though they are technically still at war.
Mr Chung cited North Korea as saying it would not carry out nuclear or missile tests while talks with the international community were under way.
North Korea has not carried out any such tests since last November.
"The North also said it can have frank talks with the United States on denuclearisation and the normalisation of ties between North Korea and the United States," Mr Chung added.
To ensure close communication, the two Koreas, whose 1950-53 conflict ended in a truce rather than a peace treaty, will setup a hotline between South Korean President Moon Jae-in and Kim Jong Un, Mr Chung said.
The prospect of talks between the isolated North and the US helped boost global stock markets, with the broadest gauge of global shares, MSCI's All Country World Index, rising 0.7% and Wall Street stocks opening higher .
The US and North Korea have been at loggerheads for months over North Korea's nuclear and missile programmes, with Mr Trump and Kim Jong Un trading insults and threatening war. North Korea has regularly vowed never to give up its nuclear programme, which it sees as an essential deterrent and "treasured sword" against what it calls US plans for invasion.
The US, which stations 28,500 troops in the South, a legacy of the Korean War, denies any such plans.
In Washington, US Director of National Intelligence Dan Coats said the United States would have to know far more before assessing North Korea's willingness to hold talks on denuclearisation.