Nine men have appeared in court charged in connection with two burglaries at two shops in Dublin on Friday night.
A Lidl supermarket was looted and bulldozed with a digger, while a Centra shop was also broken into.
Nine men were brought by gardaí to the Courts of Criminal Justice yesterday morning following the series of incident in west Dublin.
The Lidl supermarket on Fortunestown Lane was raided and looted, with the safe removed and found partially open outside.
The supermarket was then bulldozed with a stolen digger and the structure collapsed.
The Centra store in Jobstown was also broken into after a con saw was used to cut a hole in the front.
Civil defence, army trucks and snowploughs had to be utilised to bring Garda reinforcements to the scenes.
Three men were charged in connection with the alleged offences at Centra.
Mohammad Smeu, 25, from Milners Square in Santry, is accused of burglary and possession of a weapon, a sledgehammer.
His two co-accused, 37-year-old John Doyle from Russell Walk, Russell Square, Tallaght and 36-year-old David Bernie of Suncroft Park, Tallaght, are also both charged with burglary.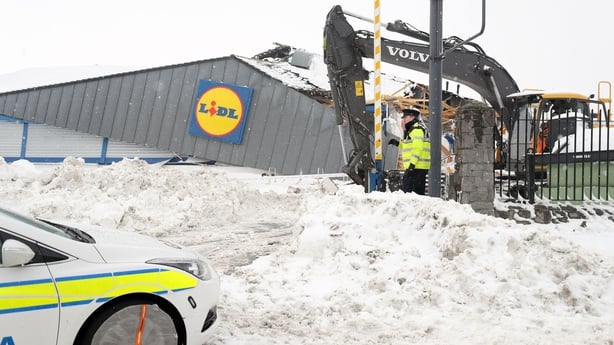 Six more men are charged in connection with the incidents at Lidl.
48-year-old John Kelly from Allen Hall in Tallaght is accused of handling stolen property, namely a safe, while 20-year-old Pouilas Gueizecius, from St Mochtas Drive in Clonsilla, is accused of burglary and possession of stolen property.
Two others, Paul Freeman of Russell Green in Tallaght and Keith Kelly from Suncroft Park in Tallaght, are accused of trespass at Lidl.
A further two men, Edgar Cesynas of Silken in Citywest and Gerard Buggle from Macuilmaim, Tallaght, are charged with theft at Lidl.
Mr Bernie shouted in court that CCTV would vindicate him and his two co accused allegedly at the Centra.
"We are not the ones who broke into that shop and CCTV will prove that" he said.
Those three men were remanded in custody, the other six were released on bail to appear again in court later this month.