Students who survived last Wednesday's mass shooting at their Florida school have announced plans to march on Washington.
It is in a bid to "shame" lawmakers into reforming laws that make powerful firearms readily available.
The "March for our Lives" will take place on 24 March, with sister marches planned across the country.
Florida students to march on Washington demanding more gun controls https://t.co/7KZL7Id8lR pic.twitter.com/7oe7K7qeBF

— RTÉ News (@rtenews) February 19, 2018
The students are vowing to make the shooting at Marjory Stoneman Douglas High School a turning point in America's deadlocked debate on gun control.
19-year-old Nikolas Cruz, a former student at the school has confessed to killing 17 people with a legally-purchased AR-15 semi-automatic rifle.
Among the students announcing the march was 18-year-old Emma Gonzalez, who captured worldwide attention with a speech in which she hit out at President Trump over the multi-million-dollar support his campaign received from the gun lobby.
Ms Gonzalez urged politicians to join a conversation about gun control, citing Donald Trump as well as Florida Senator Marco Rubio and Governor Rick Scott, who are fellow Republicans.
"We want to give them the opportunity to be on the right side of this," she said, as she and her four classmates called on students across the country to help push home their message.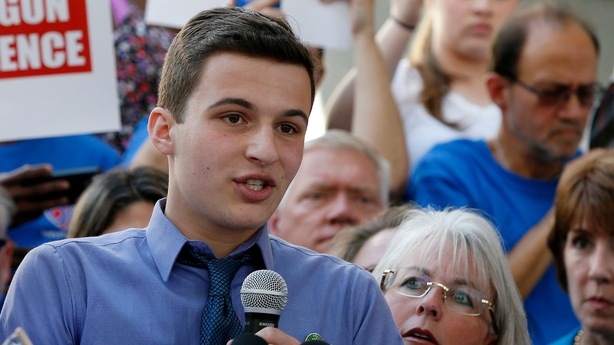 Singling out the links between politicians and the powerful National Rifle Association, fellow student Cameron Kasky said any politician "who is taking money from the NRA is responsible for events like this."
Accusing the NRA of "fostering and promoting this gun culture," he said the students sought to "create a new normal where there's a badge of shame on any politician who's accepting money from the NRA."