Thirteen people, including three children, have been killed after a helicopter carrying a Mexican government minister crash landed near the epicentre of last night's earthquake.
Last night's prolonged 7.2 magnitude earthquake left nearly a million homes and businesses without power in the capital as well as in four south west states.
Five women, four men, and the three children were among the dead when the military helicopter went down late yesterday.
Another victim died on the way to hospital.
Interior Minister Alfonso Navarrete and Oaxaca state Governor Alejandro Murat, were on board the aircraft but were unharmed.
Minister Navarrete said several passengers on the helicopter had also been injured.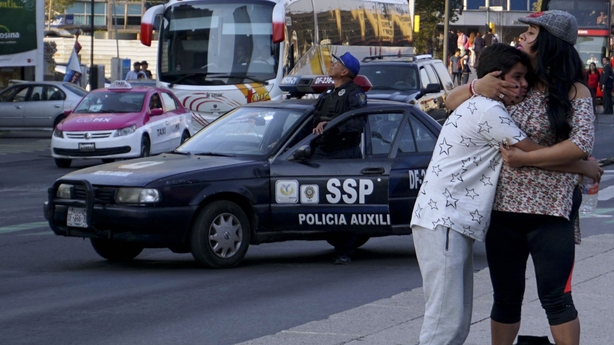 Mr Navarrete said the pilot of the military helicopter, which had flown from Mexico City to Pinotepa de Don Luis, some 37 kilometers southwest of the epicenter, lost control of the aircraft at a height of about 40 metres as it was coming in to land.
A television reporter who was on board said the helicopter suddenly dropped after generating a large cloud of dust on its landing field.
TV images showed the crashed aircraft lying on its side surrounded by several cars.
On Twitter, the Mexican President Enrique Pena Nieto said: "Unfortunately, several people on the ground lost their lives and others were injured. My condolences to your relatives and my desire to promptly recover the injured."
No deaths from the earthquake were reported but many homes were damaged in Oaxaca, which, along with Mexico City, is still reeling from earthquakes that caused widespread damage in September.
The National Seismology Service said the epicentre was about 145km from the Pacific coast surfer resort Puerto Escondido and the sustained shaking gave way to 194 aftershocks.
In Mexico City, the seismic alarm sounded 72 seconds before tremors were felt, Mayor Miguel Angel Mancera said, giving residents time to flee to the streets.
Tremors were also felt as far away as Guatemala to the south.