A new opinion poll suggests there has been a significant gain in support for the main Government party, Fine Gael. 
A Sunday Business Post/Red C poll has the party up five points to 32%. It is the highest level of support for Fine Gael in this polling sequence since December 2015, just before the last general election. 
Compared with the last Sunday Business Post/ Red C poll in November; Fianna Fáil is unchanged on 26%, Sinn Féin is down one point to 15% while the Independents are also down one point to 9%. 
The Independent Alliance is down one point to 3%, Labour is unchanged at 6%, while Solidarity/People Before Profit at 3% is also unchanged.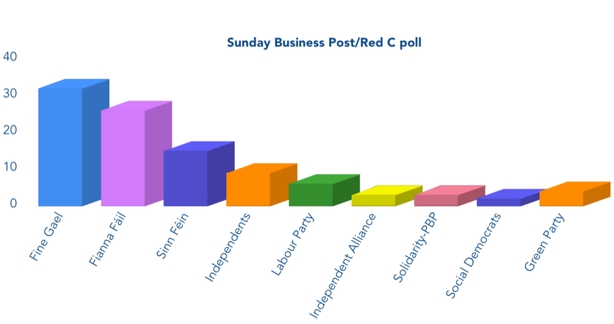 The Social Democrats are down one point to 2% and the Green Party is unchanged at 4%. 
The poll of over 1,000 adults was conducted between Thursday 18 January and Thursday 25 January. It has a margin of error of plus or minus 3%. 
Support for Fine Gael in this poll is consistent with similar findings in an Irish Times/Ipsos MRBI poll earlier in the week and last weekend's Sunday Times/Behaviour & Attitudes poll.