Thousands of people queued in Limerick city this afternoon to pay their respects to Cranberries singer Dolores O'Riordan.
The 46-year-old was found dead in a London hotel on Monday.
Ms O'Riordan's mother, as well as her five brothers and sister accompanied her body to St Joseph's Church on O'Connell Avenue in Limerick earlier today, where Bishop of Limerick Brendan Leahy met them.
Thousands of people queued in the rain outside the church to file past the open coffin and pay their respects.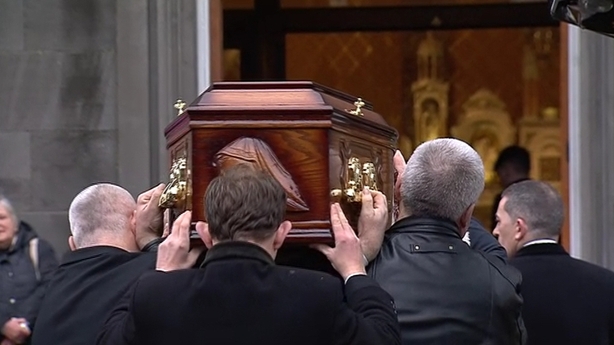 Bishop Leahy said today was Limerick's public moment to bid farewell to Dolores.
He said people had come to offer a heartfelt greeting to a deeply loved and cherished daughter of Limerick, a talented representation of the potential of Limerick people, and a convinced advocate of living life in truth, love and peace.
Four books of condolence were also opened inside the church for mourners to sign.
Her remains will also repose at Cross's Funeral Home in Ballyneety, Limerick, tomorrow from 4pm, followed by removal at 8pm to Saint Ailbe's Church in her native Ballybricken.
Her funeral mass will take place on Tuesday morning in St Ailbe's Church. 
A private family burial will follow the mass.
Dolores O'Riordan's remains have arrived at St Josephs church Limerick. Hundreds are queuing to pay their respects pic.twitter.com/9aPfDrpfXH

— Cathy Halloran (@HalloranCathy) January 21, 2018
O'Riordan was in London to discuss plans for the band's latest album when she was found dead in a hotel.
The 46 year-old - who was also a member of alternative rock group D.A.R.K - had been working on a new studio album with The Cranberries in the months before her death and was expected to discuss its scheduled release with record label BMG while in England.
A number of tests have been carried out to establish the cause of the musician's death, an inquest heard on Friday before it was adjourned until 3 April.
The singer was renowned for her distinctive voice and the band enjoyed huge success in the 1990s with tracks including Zombie and Linger.