South Korea has welcomed confirmation by the International Olympic Committee (IOC) that 22 North Korean athletes would compete in next month's Winter Olympics, and said it will aid peace and the easing of tensions on the Korean peninsula.
In the first of a series of preparatory visits, North Korean music and arts officials have arrived in South Korea to inspect sites for performances during the Olympics.
"North Korea's participation in the Olympics will be a catalyst for building peace and easing tensions on the Korean peninsula," said South Korea's presidential Blue House in a statement released today.
The visit to the South marks the first by North Koreans since South Korean President Moon Jae-in took office in May last year and sought to re-engage with the North.
"President Moon has previously stressed that the Pyeongchang Olympics should be an important turning point in solving North Korea's missile issues," the Blue House statement said.
The seven-member North Korean delegation, led by musician Hyon Song-wol, will check venues for performances by a 140-strong art troupe at the Olympics.
The officials are scheduled to spend two days inspecting art centres in Seoul and Gangneung city, which will also host several of the Olympic events.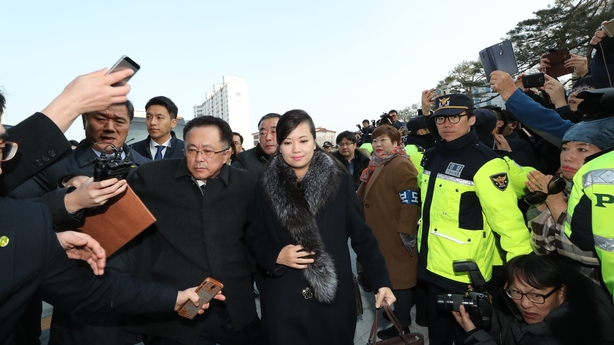 South Korean broadcaster YTN reported the delegation had arrived in Seoul early this morning under a heavy police presence, then boarded a train to Gangwon province, where the Olympics will be held from February 9-25.
Pyongyang has said it also plans to send another team of sports officials to inspect Olympic venues and accommodations from January 25-27, South Korea's unification ministry said.
In a diplomatic breakthrough after a year of escalating tension over the North's nuclear and missile programmes, the IOC announced yesterday that North Korea will send 22 athletes to the Winter Games and compete in three sports and five disciplines.
Until the IOC confirmation, a figure skating pair were the only North Koreans to have secured a spot at the Games through the conventional qualifying competition, although they lost their place after failing to register.
The North Korean delegation had been scheduled to visit yesterday but cancelled just before the visit with no explanation.
Officials from both Korea's used a cross-border hotline to quickly reschedule the visit.
South Korean officials have also said Pyongyang had accepted proposals for South Koreans to travel to North Korea for joint athletic training at the Masikryong Ski Resort and a cultural event at Mount Kumgang, a once popular tourist area.