Mary Lou McDonald has been confirmed as Sinn Féin's President-Elect by Gerry Adams at a meeting of the party Ard Comhairle and its Northern region organisation in Belfast.
Mr Adams is stepping down from the position next month and used the occasion to confirm that Ms McDonald is the only candidate proposed to succeed him.
He has been president of Sinn Féin since 1983.
Nominations for the position closed on Friday.
Ms McDonald will be formally ratified at a special Sinn Féin Ard Fheis in Dublin on 10 February.
Speaking after being named as President-Elect, Ms McDonald said republicanism is entering a new era with confidence.
"I am proud and honoured to be nominated for Uachtarán Shinn Féin. I look forward to being ratified at our special Ard Fheis on 10 February," she said.
She added: "I know I have big shoes to fill taking on the role from Gerry Adams and I know that is impossible but I have brought my own shoes and together, with all of the party membership, we will walk on a journey that will lead to Irish unity.
"Uniting this island is the best outcome for all our citizens and it is now our task to convince our unionist friends and neighbours of that and to encourage them to help us build a new Ireland.
"We are entering a new era and we can look forward with confidence."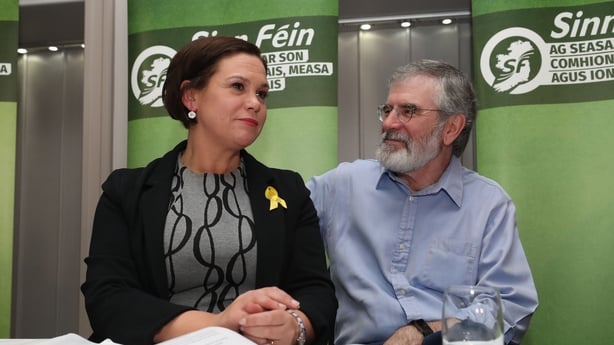 Mr Adams also used the Belfast gathering to indicate Sinn Féin wants to see an end to the stalemate at Stormont.
In his speech, Mr Adams stated that "it is not in the interests of the vast majority of citizens that political parties should retreat to our trenches and hunker down comfortably in the certainty of our respective positions".
"We have to challenge ourselves and our support base. We also have to challenge unionism," he added.
He also said: "Whether the upcoming talks succeed or not in the short term, there is no merit in Sinn Féin disengaging from the conversations and dialogue with unionists and others that are necessary."
The sentiments will be noted by the British and Irish governments with political negotiations due to recommence in Stormont next Wednesday.