Turkey will respond immediately to any threats that could harm the country or its citizens emanating from western Syria, its National Security Council has said.
The Turkish government has been infuriated with comments by the US-led coalition in northeastern Syria that it was working with the mainly Kurdish YPG Syrian Democratic Forces to set up a new 30,000-strong border force.
The council said the United States had disregarded Turkey's security in supporting and arming the Syrian Kurdish YPG.
Turkey would not allow the formation of a "terrorist army" along its borders, the council said in a statement following a nearly five-hour meeting.
"All measures on this would be taken," and all weapons given to Kurdish fighters in Syria should be collected without delay.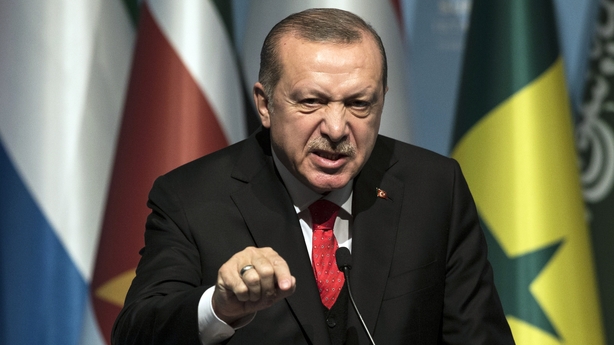 On Monday, with relations between the NATO allies stretched close to breaking point, Turkey's President Recep Tayyip Erdogan threatened to "strangle" the planned US-backed force in Syria "before it's even born".
Mr Erdogan has also threatened military action against the Kurdish region of Afrin, to the west of the area where the border force is planned.
As the council met, a Reuters reporter witnessed the Turkish army deploying nine tanks to a military base just outside the city of Hatay, near the border with Afrin.
That followed earlier reports of a military buildup in the area.
The council also advised the cabinet to extend for three months the emergency rule imposed shortly after an attempted coup in 2016, in a move likely to prolong a post-putsch crackdown.