President Michael D Higgins and Taoiseach Leo Varadkar were among the mourners at the funeral of former attorney general and EU commissioner Peter Sutherland in Dublin.
The 71-year-old died last weekend after a period of ill health.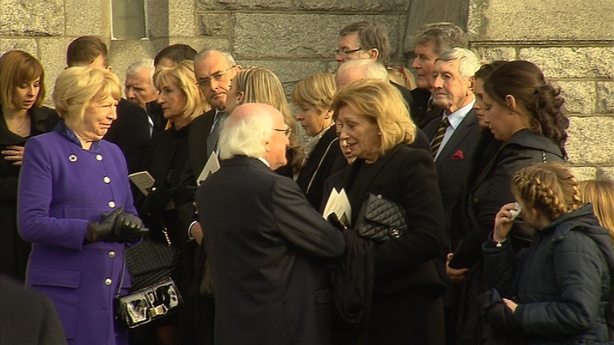 Former taoisigh Bertie Ahern and Enda Kenny also attended the funeral mass in Donnybrook church, along with ministers Paschal Donohoe and Richard Bruton, EU Commissioner Phil Hogan, Green Party leader Eamon Ryan, MEP Mairead McGuiness and former Ireland and Munster rugby player Keith Wood.
Paying tribute to Mr Sutherland, a Jesuit priest who knew him from his days at Gonzaga College, Fr Noel Barber, said he was known sometimes as the father of globalisation and "promoted globalisation because he saw it was a means of lifting billions out of grim poverty and of countering a narrow nationalism, which avoids global responsibility".
Fr Barber said: "His enthusiasm for the real benefits of globalisation may indeed have blurred his view of its downside but he rightly emphasised its benefit to the poorer countries of the world."
Fr Barber also spoke of Mr Sutherland's work on migration praising "his passionate devotion to the cause of refugees that the Vatican and the UN called on and that passion came from a deep religious consciousness".
A school friend, retired judge Garrett Sheehan, paid tribute to the support given to Mr Sutherland throughout his life by his family, and in particular his wife Maruja, without whom he said none of his many achievements would have been possible.
He said that Mr Sutherland's closeness to his family circle did not mean that his heart was closed to others.
He was buried at Kilternan Cemetery Park.