Rescue crews are digging through waist-deep mud in California, searching for up to two dozen people missing after mudslides swept through coastal communities.
At least 17 people are now known to have been killed in the mudslides in affluent Santa Barbara County following heavy downpours this week.
The rivers of mud caused widespread damage to historic hotels and the homes of celebrities, including Oprah Winfrey and Ellen DeGeneres.
But the green hillsides that once gave their estates a sense of seclusion were largely denuded by last month's historic wildfires.
That set the stage for the massive slides that sent boulders crashing into homes, turned highways into raging rivers and shredded cars into nearly unrecognisable tangles of metal.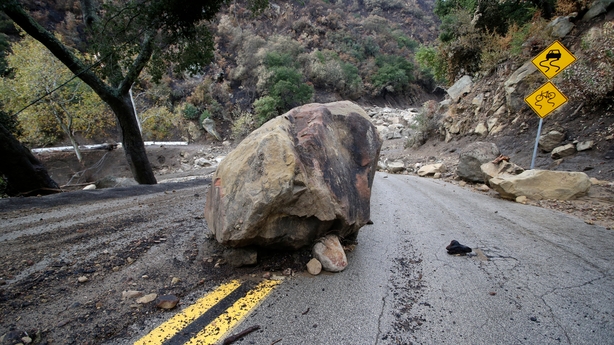 We need your consent to load this Instagram contentWe use Instagram to manage extra content that can set cookies on your device and collect data about your activity. Please review their details and accept them to load the content.Manage Preferences
"The water was moving at 15 miles an hour, taking everything in its wake, dropping boulders and debris, clogging culverts, knocking out pipes," said state Senator Hannah-Beth Jackson.
Between 12 and 24 people who were believed to be in the area of Montecito, near Santa Barbara, at the time of the slides remain missing.
About 500 law enforcement officers and firefighters were searching mud-covered neighbourhoods, using dogs, helicopters and thermal imaging equipment.
California mudslides: Newborn among family of five rescued | Courtesy: US Defence Dept pic.twitter.com/HbNfvC60dJ

— RTÉ News (@rtenews) January 10, 2018
Officials have ordered residents in a large swath of Montecito to stay in their homes so that rescuers can better go about their work.
Santa Barbara County initially ordered 7,000 residents to evacuate and urged another 23,000 to do so voluntarily, but only 10-15% complied with mandatory orders.
The mudslides closed several historic hotels, including The Four Seasons Biltmore, which had just reopened on Monday after repairing wildfire damage.
The courtyard of the 90-year-old Montecito Inn, built by silent movie actor Charlie Chaplin, was filled with a thick crust of debris driven by the slides.
The disaster followed a violent rainstorm that dropped as much as 15cm of rain in pockets northwest of Los Angeles, soaking ground that was left vulnerable after much of its vegetation burned last month.
We need your consent to load this rte-player contentWe use rte-player to manage extra content that can set cookies on your device and collect data about your activity. Please review their details and accept them to load the content.Manage Preferences