Spectacular fireworks displays have ushered in 2018 in cities around the world.
The city of Sydney hosted its annual fireworks spectacular to welcome in the New Year with the biggest fireworks display the city has ever seen.
According to organisers, 3,000 individual lighting effects were choreographed to the fireworks display - 1,000 more effects than last year.
During the 12 minute display eight tonnes of fireworks - one tonne more than last year - along with 13,000 shells and 30,000 shooting comets were used, said organisers.
To mark Australians saying 'Yes' to marriage equality in November 2017, the display featured a rainbow-coloured waterfall of fireworks cascading from the iconic Sydney Harbour Bridge, and as a tribute to the 40th Mardi Gras in 2018.
The show also featured a gold and silver shooting fireworks display designed by Sydney fireworks director Forch Foti and Sydney-born actor Hugh Jackman.
Celebrations at home and abroad to usher in 2018 pic.twitter.com/2aqi4S2cYM

— RTÉ News (@rtenews) December 31, 2017
Sydney New Year's Eve is one of the biggest New Year celebrations in the world and according to organisers more than 1.5 million people were expected to line to harbour to watch the display.
Hong Kong welcomed 2018 with a spectacular fireworks display over Victoria Harbour.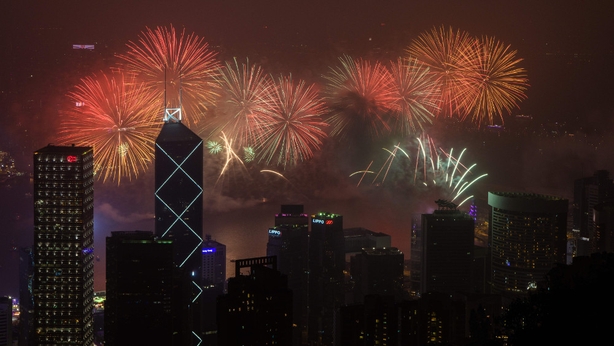 Thousands watched the 10-minute musical fireworks that incorporated pyrotechnic and lighting effects, launched from both land and sea.
At the same time, Taiwan welcomed the New Year with a fireworks show off Taipei 101, the country's tallest high-rise building.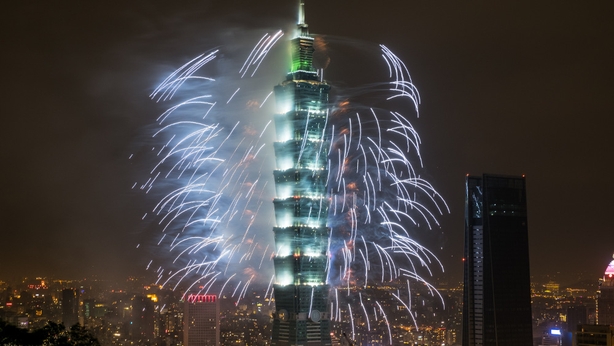 Dublin's New Year festival, which is in its fourth year, is under way outside Custom House with two Liffey Lights performances and a concert.
Pope Francis in his year-end message said that 2017 had been marred by war, lies and injustice, and he urged people to take responsibility for their actions.
At his last public event of the year, an evening vespers service in St Peter's Basilica, the pontiff said that humanity had "wasted and wounded" the year "in many ways with works of death, with lies and injustices".
While war was the most obvious sign of "unrepentant and absurd pride", many other transgressions had caused "human, social and environmental degradation".
"We must take responsibility for everything before God, our brothers and our creation," he said.