Spanish Prime Minister Mariano Rajoy has ruled out calling a national election after Catalan pro-independence parties won a majority in a regional vote, thwarting his bid to resolve the country's biggest political crisis in decades.
Mr Rajoy had gambled on unionist parties taking control of Catalonia's regional government, which he sacked in October for illegally pursuing independence from Spain.
Speaking at a news conference, Mr Rajoy said he would make an effort to hold talks with the new Catalan government.
However, he did not clarify whether he would be willing to meet deposed Catalan President Carles Puigdemont, who is in self-imposed exile in Brussels and whose party retained its position as the largest separatist force.
Mr Rajoy said: "The person I should be meeting with is with the one who won the elections, and that is Mrs Arrimadas."
Mr Rajoy was referring to centrist, anti-independence candidate Ines Arrimadas, whose Ciudadanos party won the best individual result in yesterday's vote - even as the bloc of separatist parties maintained its absolute majority.
Mr Puigdemont has offered to meet Mr Rajoy outside Spain for talks on the region's independence crisis following the vote.
Mr Puigdemont was speaking to reporters in Brussels, where he fled after his region's parliament declared independence from Spain. Should he return, he faces arrest on charges of rebellion, sedition and misuse of funds.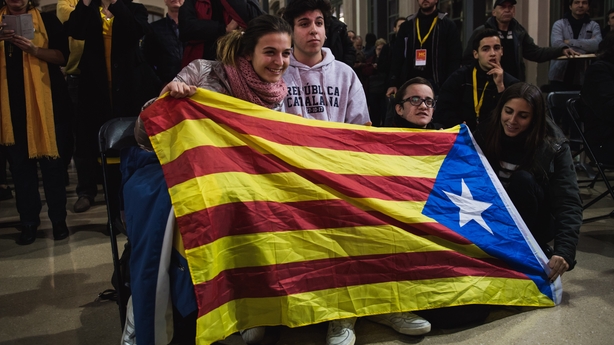 "I am willing to meet Mr Rajoy in Brussels or in any other location in the EU, so long as it is not in the Spanish state, for obvious reasons," he said.
The vote was widely seen as a moment of truth on the independence question, with the secessionists maintaining their parliamentary majority, the move to call snap polls appeared to backfire against Mr Rajoy.
Supporters for Catalan independence have been celebrating throughout the night.  
The elections were called by the Spanish government, who dissolved the previous administration after it organised an illegal referendum in October and declared independence. 
Mr Puigdemont said that it was indisputable that separatists had won yesterday's key regional vote.
"This is a result which no one can dispute," Mr Puigdemont told supporters in Brussels as partial results showed that pro-independence parties were on course for an absolute majority.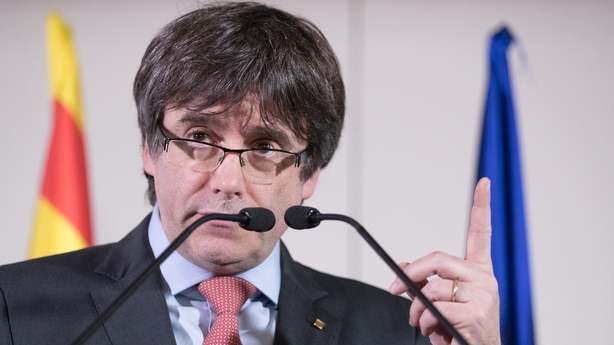 "I think we have earned our right to be listened to."
As loyalists shouted "president, president", Mr Puigdemont also lashed out at Mr Rajoy.
He said it was "a slap" for the Spanish premier, adding: "Rajoy has lost the mandate he sought."
Mr Puigdemont was axed as president of Catalonia after holding an independence referendum that Madrid deemed illegal.
He and four former ministers then fled to Belgium to avoid charges of rebellion and sedition.
Spain dropped a European arrest warrant for them earlier this month but they still face arrest if they return to their homeland.
Mr Puigdemont said he also aimed to win the support of the European Union for his cause, but it has so far backed Mr Rajoy, saying it backs constitutional order, and that it is an internal matter for Spain.
The European Commission, the executive arm of the 28-nation union, said that its stance remained the same whatever the result of the vote.
"Our position on the question of Catalonia is well known and has been regularly restated, at all levels. It will not change," said commission spokesman Alexander Winterstein.
"In relation to a regional election, we have no comment to make."