British Prime Minister Theresa May has told European Union leaders that she is on course to deliver Brexit.
A day after she suffered a defeat in parliament in London over her blueprint for the UK to leave the EU, Mrs May won a round of applause at the summit in Brussels for efforts so far in agreeing to an outline of divorce terms.
She told the leaders over dinner that her priority was agreeing a transition period after the UK's departure in March 2019 to offer businesses certainty.
She again urged the 27 leaders to speed up the talks and open discussion of trade relations, which she sees as crucial for a smooth exit.
A British government official said that Mrs May made "no secret of wanting to move on to the next phase and to approaching it with ambition and creativity".
She will not be present when the leaders take the decision to start talks on a transition period and a future trade deal late tomorrow morning.
The President of the European Council Donald Tusk will be in phone contact with Mrs May to update her on the results of the discussions, officials said.
Mr Tusk warned the leaders that only their unity displayed so far would deliver a good deal as discussions move to trade, an issue on which the member states have different interests.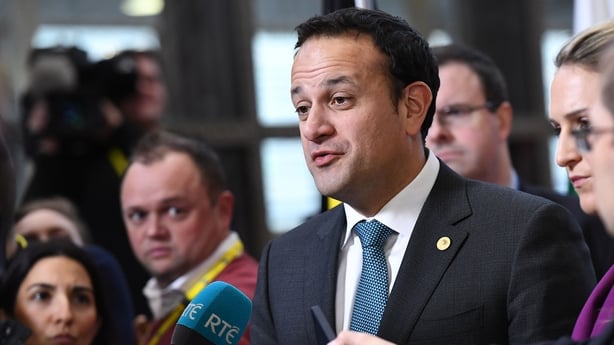 Earlier, Taoiseach Leo Varadkar has said that those who campaigned for Brexit should acknowledge they were the ones who created the current problems.
As he arrived at the summit, he was asked if he had a message to unionists who believed that the Government was pursuing an Irish unity agenda, following the agreement between the EU and UK last week.
Mr Varadkar said: "My message to all of the people in Northern Ireland, whether they're from a nationalist political point of view or a unionist political point of view, is what we want to continue on the island of Ireland is what we've had for the last 20 years, which is peace, freedom of movement, free trade between Northern Ireland and Ireland, and indeed between Ireland and Britain.
"What's disrupting that is Brexit. I would hope that some of the people who supported Brexit and campaigned for that would realise - or at least acknowledge - that they're the ones who created this problem.
"I'm one of the people who is trying to resolve it, trying to retain what we've had now for 20 years, peace on our island for the most of the past 20 years, power-sharing, and for all of those 20 years, free movement of people, goods, services and trade between Britain and Ireland and in Ireland, and that's what I'm working towards."
Asked about Ireland's interpretation of "full alignment" between Northern Ireland and the Republic on the rules of the EU single market and customs union, the Taoiseach said: "Our view is [the Joint Report] is very strong language. Maintain means, 'keep as it is' of course. Full means 'full', not 'partial', and alignment means 'keep in line'.
"In terms of European law, the whole concept of alignment exists in the accession treaties so when a country wants to join the EU it's required to align its rules and regulations with the European Union before it joins.
"We're not complacent either. This is politics. We're going to need to stay very engaged in the months and years ahead, and very vigilant too."
"What we're saying here is that in this backstop scenario the UK and Northern Ireland, in particular, would maintain full alignment with the rules and regulations of the internal market and the customs union as a backstop arrangement, and that gives us a very strong assurance that there won't be a hard border on the island of Ireland.
The new guidelines will also insist that the second phase can only progress if the commitments Britain has made on the border and other issues are made legally sound so they can be inserted in whatever treaty is agreed at the end of the divorce process.
The Government insists that Britain will be held to its guarantee of no hard border throughout the process, but there are still conflicting views on both sides of the Irish Sea as to how that should be achieved.
British prime minister Theresa May and Taoiseach Leo Varadkar have held a brief meeting on the margins of the European Council, acc to Irish Govt spokesman. Pair will meet/speak in New Year to discuss Brexit & NI Executive.

— Tony Connelly (@tconnellyRTE) December 14, 2017
---
May suffers defeat in crucial Commons Brexit vote
MEPs back next phase of Brexit talks
Brexit and Ireland: The contradictions that will plague the deal
---