Taoiseach Leo Varadkar has announced Simon Coveney as the new Tánaiste, replacing Frances Fitzgerald.
The Cork man, who was Mr Varadkar's rival for the Fine Gael leadership earlier this year, will also continue to serve as Minister for Foreign Affairs and Trade with responsibility for Brexit.
Josepha Madigan, Fine Gael TD for Dublin Rathdown, has been elevated to Cabinet as Minister for Culture, Heritage and the Gaeltacht.
Ms Madigan is a first-time TD after being elected at the 2016 General Election.
Taoiseach names Simon Coveney as new Tánaiste https://t.co/AHryoOzETZ pic.twitter.com/zoXMNbYCeu

— RTÉ News (@rtenews) November 30, 2017
The Dáil officially voted in Ms Madigan in her new ministerial role with 52 votes for her, 39 against and 38 abstaining.
She replaces Heather Humphreys, who was appointed to Ms Fitzgerald's former role of Minister for Business, Enterprise and Innovation.
Ms Humphreys had held the Culture, Heritage and the Gaeltacht portfolio since June.
She previously served as Minister for Arts, Heritage, and the Gaeltacht Affairs from July 2014 to May 2016; and Minister for Arts, Heritage, Regional, Rural and Gaeltacht Affairs from May 2016 to June 2017.
The new appointees collected their seals of office at Áras an Uachtaráin this afternoon.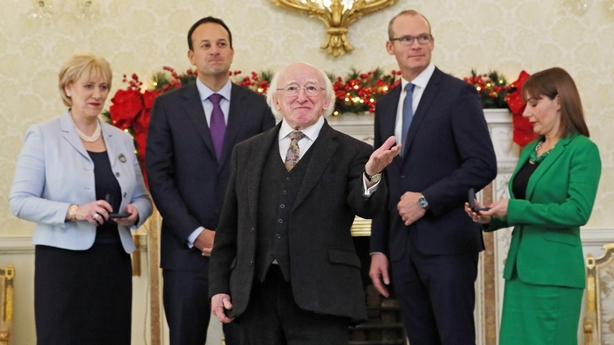 The Taoiseach said Ms Humphreys' appointment means that for the first time in seven years the Minister for Business will be from outside the Dublin region and also from the Border.
"I think as well this is particularly relevant in the context of Brexit and also the Government's commitment to bring more jobs and good jobs to all regions of Ireland, especially rural Ireland," he said.
"Her experience as a minister and also her background in business and finance makes her suited to this role."
---
What you need to know about the new Arts Minister
---
The Taoiseach said Ms Madigan will drive forward the agenda of Arts, Heritage and the Gaeltacht.
Mr Varadkar added that he will also establish a new Cabinet committee - Committee G - to deal with justice and equality matters and Ms Madigan will be on that committee.
Fianna Fáil leader Micheál Martin congratulated Ms Madigan and Ms Humphreys.
He also took issue with the "coordinated attempt" to say everything is the fault of civil servants following the Frances Fitzgerald controversy.
In addition, he asked Ms Madigan to work to preserve the RTÉ orchestras.
Sinn Féin TD Mary Lou McDonald said that the Taoiseach now has a strong Cork flavour to his Government with Minister for Agriculture Michael Creed, Mr Coveney and "of course, Micheál Martin".
Mary Lou McDonald tells Taoiseach he has a strong Cork flavour to his Cabinet pic.twitter.com/55sQxW99pV

— RTÉ News (@rtenews) November 30, 2017
She said she looks forward to Ms Madigan's proposals on minorities such as Travellers.
Green Party leader Eamon Ryan wished Ministers Humphreys and Madigan well in their new portfolios.
He urged that Ms Madigan's first action should be to implement Hildegarde Naughten's report into public service broadcasting "so we can fund the orchestras and our whole media and content creation industry".
Solidarity-People Before Profit TD Ruth Coppinger sharply criticised Ms Madigan's appointment, accusing her of "anti-Traveller bigotry".
She said the reshuffle had been landed on the Taoiseach because of a major political crisis and criticised Mr Varadkar for "defending the indefensible".
Labour Party leader Brendan Howlin congratulated those who were appointed, but warned that a '"serious job of work" needed to be done.
He said Labour would continue to hold the Government to account.