A teenager from Drogheda has given the Taoiseach a graphic account of the everyday racism she experiences in Ireland.
Joella Dhlamini, who is originally from South Africa, spent World Children's Day with Leo Varadkar.
A 16-year-old from Louth describes the racism she experiences pic.twitter.com/kuiF1FxQDB

— RTÉ News (@rtenews) November 20, 2017
The 16-year-old was one of a number of children from around the world who "took over" key roles in media, politics, business, sport and entertainment to highlight the most pressing challenges faced by their generation.
Joella was chosen by UNICEF to represent the views of the children of Ireland after she entered a competition to describe the one change for children she would like to see.
The teenager, who was born in Soweto, in Johannesburg, wrote about the racist abuse she and her family have encountered since moving to Ireland three years ago.
"My mom felt it would be a better place for me to grow up because the education system here is really good and because we were victims of violent crime in South Africa multiple times. She wanted us to relocate somewhere safer.
"It was really hard because I had to leave everything behind, but I thought to myself I'm very lucky to move to Ireland by choice and not because I'm being persecuted or forced to leave due to war," she said.
Joella is now a student at Our Lady's College in Drogheda, where she says her fellow pupils have been "so welcoming and accepting".
However, she describes a very different picture outside of school.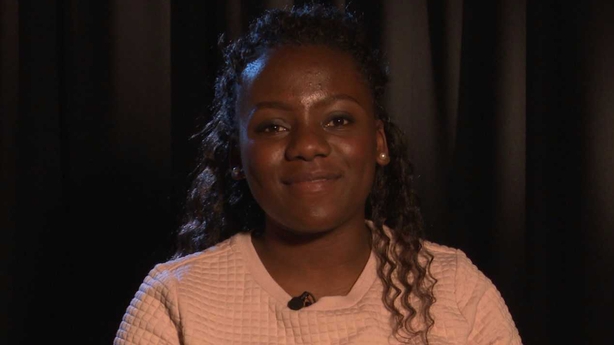 She said:
"Gorilla. Monkey. Go back to your country. The N-word is quite common. These are a few of the many insulting things I hear every day."
"My friends and I have to walk home from school in fear of getting tormented.
"I go home and tell my mom that I'm being verbally harassed every day.
"But her usual response is that I should keep quiet and keep walking, because you don't want to get threats of your house or car being burnt down.
"It is really sad that I consider this behaviour 'the norm'. This is something that no child in Ireland should consider as 'the norm'."
"This is a topic that is not talked about and it needs to be talked about."
Joella attended a series of engagements with the Taoiseach ahead of a meeting with him in Leinster House this afternoon.
Joella is really taking to this job...looking very at home behind my desk #KidsTakeOver @unicefireland pic.twitter.com/eNbfBcR65f

— Leo Varadkar (@campaignforleo) November 20, 2017
Earlier, Mr Varadkar said he was looking forward to hearing about Joella's experience in Ireland since she moved here from South Africa.
"I'll do my best to give her an insight into what an average day is like for the Taoiseach and I also want to hear directly from Joella about the issues which are of most concern to her and her peers," he added.
"I hope we can both learn a lot from the experience."