Zimbabwe's military has seized power saying it was holding President Robert Mugabe and his family safe while targeting "criminals" in the entourage of the only ruler the country has known in its 37 years of independence.
Soldiers seized the state broadcaster and a general appeared on television to announce the takeover.
Armoured vehicles blocked roads to the main government offices, parliament and the courts in central Harare, while taxis ferried commuters to work nearby.
The atmosphere in the capital remained calm.
"We are only targeting criminals around him (Mugabe) who are committing crimes that are causing social and economic suffering in the country in order to bring them to justice," Zimbabwe Major General Sibusiso Moyo, Chief of Staff Logistics, said on television.
He said: "As soon as we have accomplished our mission, we expect that the situation will return to normalcy.
"We wish to assure the nation that his excellency the president... and his family are safe and sound and their security is guaranteed."
We need your consent to load this rte-player contentWe use rte-player to manage extra content that can set cookies on your device and collect data about your activity. Please review their details and accept them to load the content.Manage Preferences
In his first contact with the outside world since the takeover, Mr Mugabe spoke by telephone to the president of South Africa, Jacob Zuma, and told him he was confined to his home but fine, the South African presidency said in a statement.
It was not clear whether the apparent military coup would bring a formal end to the 93-year-old's rule; the main goal of the generals appeared to be preventing Mr Mugabe's wife Grace, 41 years his junior, from succeeding him.
What is happening in Zimbabwe?
But whether or not he remains in office, it is likely to mark the end of the total dominance of the country by Mr Mugabe, the last of Africa's generation of anti-colonial state founders still in power and one of the continent's most polarising figures.
Still seen by many Africans as an anti-colonial hero, Mr Mugabe reviled in the West as a despot whose disastrous handling of the economy and willingness to resort to violence to maintain power destroyed one of Africa's most promising states.
He plunged Zimbabwe into a fresh political crisis last week by firing his vice president and presumed successor.
The generals believed that move was aimed at clearing a path for Grace Mugabe to take over and announced on Monday they were prepared to "step in" if purges of their allies did not end.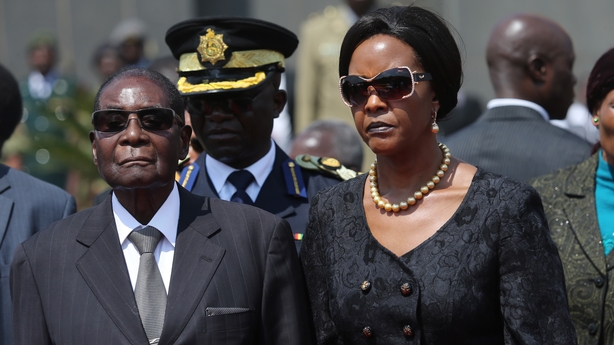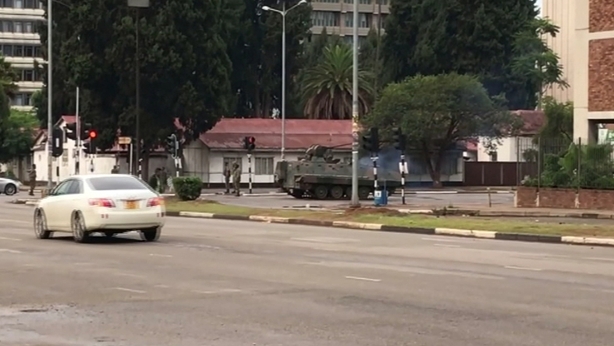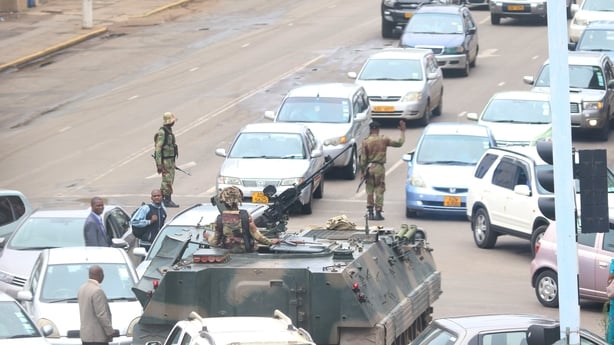 Western countries mostly called for calm.
"We cannot tell how developments in Zimbabwe will play out in the days ahead and we do not know whether this marks the downfall of Mugabe or not," British Foreign Secretary Boris Johnson told parliament.
"We will do all we can, with our international partners, to ensure this provides a genuine opportunity for all Zimbabweans to decide their future."
Finance Minister Ignatius Chombo, a leading member of the ruling party's 'G40' faction, led by Grace Mugabe, had been detained by the military, a government source said.
It appears to be business as usual in Harare'ss uburbs while there was less traffic than normal in the city centre.
Soldiers continued to man armoured cars but had relaxed searches on vehicles on some checkpoints.
Zimbabwe's opposition Movement for Democratic Change called for a peaceful return to constitutional democracy, adding it hoped the military intervention would lead to the "establishment of a stable, democratic and progressive nation state".
The leader of Zimbabwe's influential liberation war veterans Chris Mutsvangwa said: "This is a correction of a state that was careening off the cliff.
"It's the end of a very painful and sad chapter in the history of a young nation, in which a dictator, as he became old, surrendered his court to a gang of thieves around his wife."
Both the US and British embassies in Zimbabwe have advised their nationals to stay indoors because of what they call the "uncertain situation".
Due to ongoing uncertainty in Zimbabwe, the U.S. Embassy in Harare will be minimally staffed and closed to the public on November 15. Embassy personnel will continue to monitor the situation closely. @StateDept

— U.S. Embassy Harare (@usembassyharare)

November 15, 2017