UN Secretary-General António Guterres has urged Myanmar leader Aung San Suu Kyi to allow Rohingya refugees in Bangladesh to return.
He made the call when they met at a summit in the Philippines.
The meeting adds to global pressure on Ms Suu Kyi to take action to end the crisis for the Muslim minority, with US Secretary of State Rex Tillerson due to hold talks with her in Manila before travelling to Myanmar.
"The Secretary-General highlighted that strengthened efforts to ensure humanitarian access, safe, dignified, voluntary and sustained returns, as well as true reconciliation between communities, would be essential," a UN statement said, summarising comments to Ms Suu Kyi.
More than 600,000 Rohingya have fled to neighbouring Bangladesh in two-and-a-half months.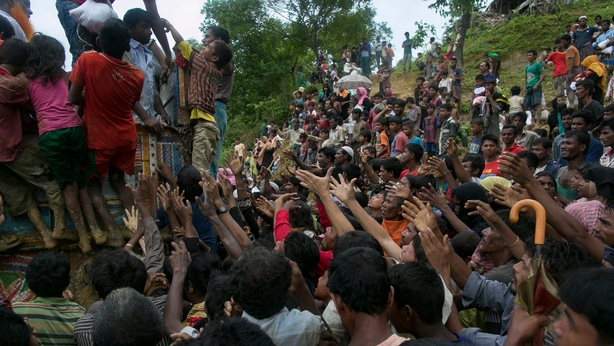 ---
Geldof hands back Freedom of Dublin honour in Suu Kyi protest
Special report: Crisis in Myanmar
---
The crisis erupted after Rohingya rebels attacked police posts in Myanmar's Rakhine state in August, triggering a military crackdown that saw hundreds of villages reduced to ashes and sparked a massive exodus.
Authorities have blocked independent access to northern Rakhine.
But journalists and UN officials have collected reams of testimony from Rohingya refugees in Bangladesh describing soldiers and Buddhist mobs committing murder, rape and mass arson.
Following its first official investigation into the crisis, the army published a report this week in which it cleared itself of any abuses.
Ms Suu Kyi, a Nobel laureate and former democracy activist, has been lambasted by rights groups for failing to speak up for the Rohingya or condemn festering anti-Muslim sentiment in the country.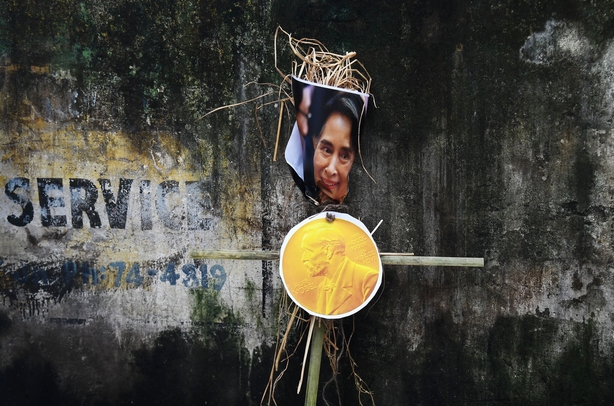 But she lacks control over the powerful military, which ruled the country for decades until her party came to power following 2015 elections.
The United States has been careful not to place blame on her and has focused instead on the army's role in the conflict.