The Transport Minister Shane Ross has strongly defended Minister John Halligan after he asked a woman a discriminatory question in a job interview.
On RTÉ's Prime Time programme tonight, Minister Ross said there was no need for him to resign over the issue.
Mr Halligan has now apologised, and has said he would have no problem paying the €7,500 a Government department has been ordered to give to a woman in compensation.
Speaking to RTÉ News from Thailand, the Minister of State at the Department of Education & Skills said he would be happy to pay the money out of his own pocket and that he will not appeal the judgment of the Workplace Relations Commission.
The woman, an executive officer, was interviewing for the post of private secretary to Mr Halligan in May 2016 and was one of three candidates to make it to the final stage for two positions.
During the interview the complainant claimed Mr Halligan said: "I know I shouldn't be asking this, but are you a married woman? Do you have children? How old are your children?".
The woman said she was taken off-guard and answered the questions confirming that she was married with two children and told him their ages.
The Minister commented that she "must be very busy".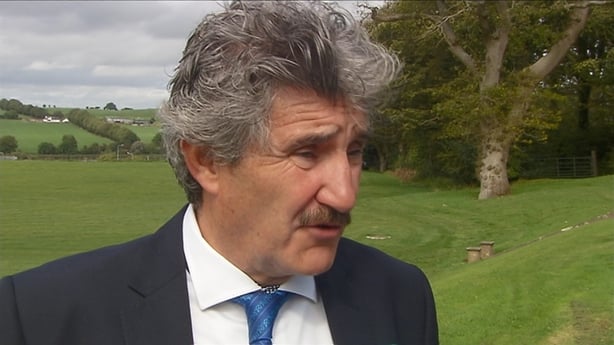 The WRC concluded the woman was put in a difficult situation in a job interview with probing questions.
Mr Halligan today again apologised over the issue and said it was a casual question was not meant to offend anyone.
He said that he has four employees who have children and they have stated on the record that he is a good employer.
In the Dáil today, Tánaiste Frances Fitzgerald said she was disturbed and disappointed to read the WRC findings that the woman was discriminated against during the interview.
Ms Fitzgerald said Mr Halligan accepted it should never have happened. However she said it was clear that it was discriminatory.
Solidarity-PBP TDs Ruth Coppinger and Mick Barry have called on the Independent Alliance Junior Minister to resign, saying he had broken equality laws.
However another of the group's TDs, Bríd Smith, said it was not a sacking offence but Mr Halligan should pay the €7,500 awarded by the WRC out of his own pocket.
On RTÉ's Prime Time programme tonight, the Transport Minister Shane Ross strongly defended Minister Halligan, saying he had been wrong to ask a discriminatory question in a job interview, but that he had now apologised.
He said Minsiter Halligan said there was no need for him to resign over the issue.
When it was pointed out to him that he had frequently called for resignations in the past, when in opposition, Mr Ross said he didn't think he had ever called for anyone to resign over an issue like this.