The Secretary General of the Department of Communications has told the Oireachtas Public Accounts Committee that the TV licence fee system is broken.
He was responding to Fianna Fáil TD Shane Cassels, who said public service broadcasting needed to be fostered at time when traditional media was under immense attack.
"If I was being brutally honest I would say the TV licence model is broken. I'm not sure it can be fixed," Mark Griffin said.
He said there was a level of TV licence evasion of 14.6%, or €40m a year.
He said the Minister for Communications was expecting a report from the Oireachtas Communications Committee, which examined the issue of public service funding.
Earlier, Sinn Féin's David Cullinane has called for RTÉ to be accountable to the PAC for the €179m it receives in licence fee funding from the Department of Communications, Climate Action and Environment.
Representatives of the department are currently before the Public Accounts Committee.
Mr Cullinane asked Mr Griffin if he could account for the spending of the €179m granted to RTÉ.
Mr Griffin said RTÉ published annual accounts and is governed by the 2009 Broadcasting Act, and subject to an independent regulator.
However, the chair of the committee, Fianna Fáil's Seán Fleming, said there should be a service level agreement in place between the department and RTÉ in relation to the public funding.
"We see a cheque for €179m going out and we haven't seen any audit trail as to how it was spent," Mr Fleming told Mr Griffin.
Mr Cullinane also said some highly-paid staff in RTÉ are setting up companies, getting a salary from the company, paying PAYE on that portion and then paying Corporation Tax on the remainder.
"It's seen as a way of avoiding income tax," Mr Cullinane said.
He added that the PAC had a duty to scrutinise every organisation that is funded by the taxpayer.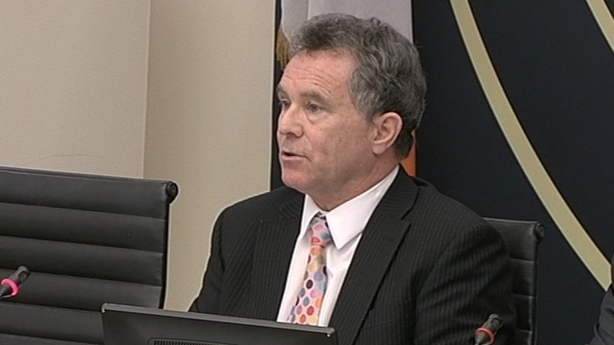 Meanwhile, Mr Fleming is to invite a number of key multinational companies to appear before members to examine their understanding of the Irish taxation system.
He said it was important to hear their "side of the equation".
The Laois TD told the committee that he was proposing to invite six multinationals in key areas - JP Morgan, Citibank, Apple, Google, GlaxoSmithKline and Pfizer - to appear before the committee.
Mr Fleming acknowledged that they would be appearing before the committee voluntarily, but also noted that many such companies have appeared before similar committees in the UK and the US.
"Hopefully these organisations will show the same respect," Mr Fleming said.
Letters of invitation will be sent out once the committee has agreed on the focus of the hearings, with a view to holding them early next year.
Separately, officials from Revenue are due to appear before the committee on 30 November to discuss a special report on corporation tax receipts.