US President Donald Trump has called on China to do more to resolve the North Korean nuclear issue.
He said that "China can fix this problem quickly and easily," urging Beijing to cut financial links with North Korea and also calling on Russia to help.
Mr Trump also said bilateral trade had been unfair to the US, while Chinese President Xi Jinping said his country would be more open to foreign firms.
The two men were speaking as they met for talks on a range of issues in Beijing.
They announced the signing of around $250bn in commercial deals between US and Chinese firms, a display that some in the US business community worry detracts from tackling deep-seated complaints about market access in China.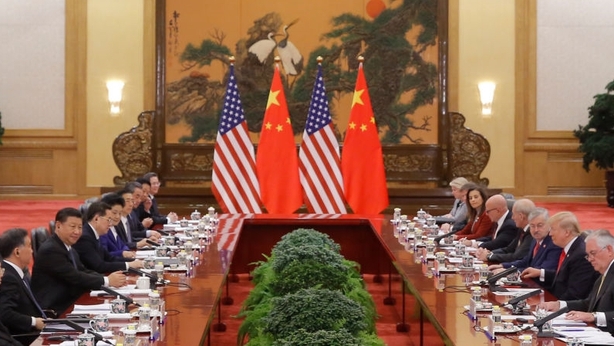 Mr Xi said the Chinese economy would become increasingly open and transparent to foreign firms, including those from the US.
He welcomed US companies to participate in his ambitious "Belt and Road" infrastructure-led initiative.
Mr Trump made clear that he blamed his predecessors, not China, for the trade imbalance, and repeatedly praised Mr Xi, calling him "a very special man".
"But we will make it fair and it will be tremendous for both of us," Mr Trump said.
Mr Trump is pressing China to tighten the screws further on North Korea and its development of nuclear weapons. At least modest progress is hoped for, though there are no immediate signs of a major breakthrough, a US official said earlier.
Referring to Mr Xi, Mr Trump said: "I do believe there's a solution to that, as do you."
In a show of the importance China puts on Mr Trump's first official visit, today's welcoming ceremony outside Beijing's Great Hall of the People overlooking Tiananmen Square was broadcast live on state television - unprecedented treatment for a visiting leader.
Earlier, Mr Xi said he had a deep exchange of views with Mr Trump and reached consensus on numerous issues of mutual concern.
"For China, cooperation is the only real choice, only win-win can lead to an even better future," he said.
Mr Xi said China and the US strengthened high-level dialogue on all fronts over the past year and boosted coordination on major international issues, such as the Korean peninsula and Afghanistan.
"Relations between China and the United States are now on a new historical starting point," Mr Xi said.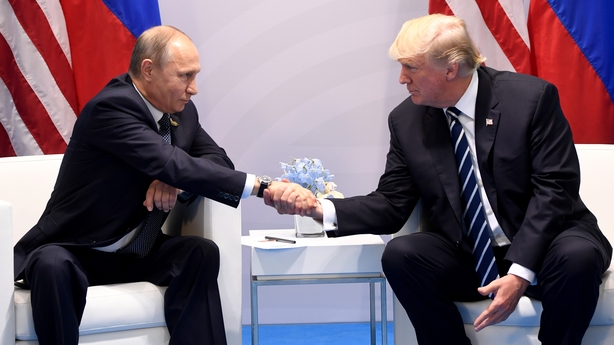 Meanwhile, there has been confusion over whether Russian President Vladimir Putin and Mr Trump will meet tomorrow in Vietnam.
A Kremlin aide has told Russian news agencies the two would meet tomorrow when they attend the Asia-Pacific Economic Cooperation summit in the Vietnamese city of Danang. T
The exact time is being decided, the official told the official TASS agency.
But in comments in Beijing, US Secretary of State Rex Tillerson said that no decision had been taken on a potential meeting.
"There has never been an agreement, certainly not to a formal bilat," he said, adding that the "question is whether we have got sufficient substance" to talk about.
"If we're going to have a meeting, let's make sure it's a meaningful meeting," he said, mentioning ongoing discussions on the situations in Syria and Ukraine.
Mr Putin and Mr Trump last met at the G20 summit in Germany in July.
Relations between Moscow and Washington have plummeted as a US probe has accused Mr Trump's former campaign aides of secretly meeting Kremlin-connected officials.
Russia has vehemently denied allegations of interfering in the US election last year that brought Mr Trump to power.