An RTÉ Investigates programme has exposed dangerously overcrowded accommodation in the private rental sector, with multiple fire safety breaches.
The six-month long investigation - Nightmare to Let - which was broadcast on Prime Time, revealed that more than half of rental properties in almost every county are failing to meet national standards if and when they are inspected by local authorities.
In some counties, 100% of registered properties fail inspections.
However, some properties are not registered with the authorities and so are highly unlikely to be inspected.
Among them was a property located on Old County Road in Crumlin in Dublin in which an RTÉ undercover researcher rented a bed at €250 per month.
The multi-occupancy property housed 40 tenants across ten bedrooms.
The building did not have a properly maintained fire detection system or properly maintained firefighting equipment.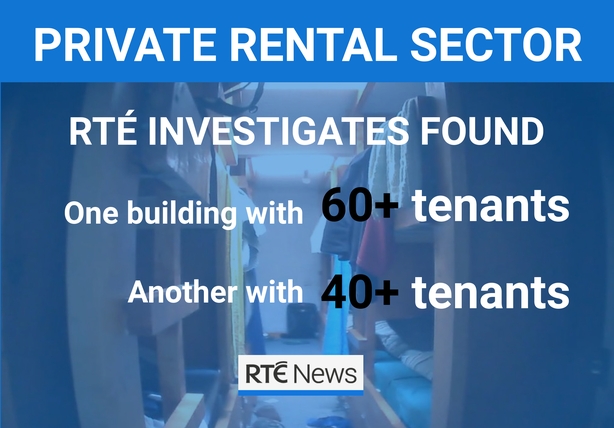 During RTÉ's investigation, building work also began on an extension at the rear of the premises. It housed 24 additional people, bringing the total number of tenants in the building to 64.
The RTÉ Investigations Unit established that the person at the centre of the rental operation at 12-14 Old County Road was Andrew O'Neill.
Mr O'Neill owns at least five rental properties generating him a potential gross income of more than €26,000 per month.
RTÉ's undercover researcher reported concerns to Dublin City Council in relation to the Crumlin property four times before a report was passed to Dublin Fire Brigade in September.
#RTEInvestigates: 'The accommodation I was in was the horriblest place I've ever been ... I was at the lowest point in my life being there.' pic.twitter.com/SC738YwGof

— RTÉ News (@rtenews) November 2, 2017
Dublin Fire Brigade sent in six officers to carry out a full inspection at 12-14 Old County Road.
Five days later, the Fire Service obtained a High Court order to evacuate the premises with the judge describing the building as a "fire trap".
In total, there are 325,000 rental properties registered in Ireland. Responsibility for inspecting these properties rests with local councils.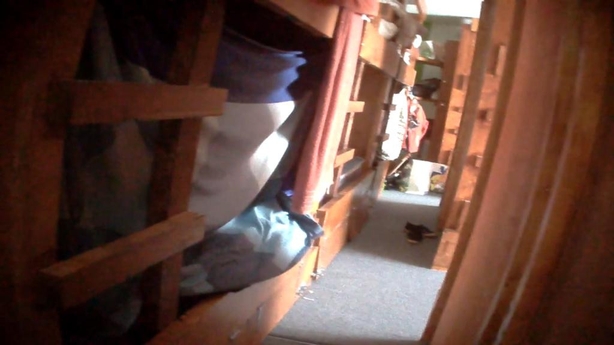 Figures supplied to RTÉ Investigates under Freedom of Information legislation reveal that only 4% of rental properties were inspected last year and of those that were inspected, two thirds were not compliant with the regulations.
There was a 100% failure rate in four districts - Kilkenny, Louth, Offaly and Limerick City and County.
The record was almost as bad in Clare at 99%, Carlow 98%, Galway County 97%, Meath 90%, South Dublin 88% and Sligo 88%. The figures show that the overall non-compliance rate for the country stands at 69%.
Dublin City has the biggest concentration of rental properties in the country, yet it has one of the lowest levels of inspections.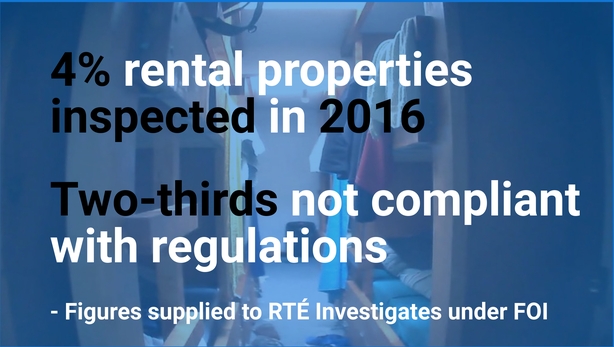 Data released to RTÉ Investigates via Freedom of Information revealed that just 2.4% of rental properties were inspected by the city council last year.
But the inspection process does not always deliver for those who need it most.
Nightmare to Let featured the story of Patrick, who has lived in a multi-occupancy dwelling in north Dublin for 20 years.
He told RTÉ Investigates that sub-standard conditions at the property mean he has been unable to use the shower for 504 days.
In October 2016, the council carried out an inspection at the dwelling and requested the landlord to carry out repairs to the ceiling, the lights and shower.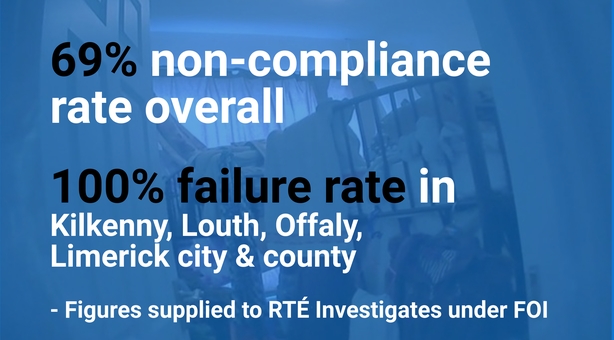 When RTÉ Investigates filmed almost a year later, many of the same problems persisted.
Following correspondence from RTÉ, the landlord has since installed a new cooker, fridge, shower and a fully functional fire detection system.
Further Freedom of Information data shows that the city council found 1,400 rental properties to be non-compliant with regulations last year.
It initiated legal action in just 1% of those cases, which is the best record of any local authority in the country.
Kildare, with just two cases, was the only other council to pursue legal action against errant landlords last year.
The investigation also featured former commercial premises in Kilmainham in Dublin 8 where tenants were charged €350 per month in rent.
A total of 42 people were living on the premises.
RTÉ's undercover researcher reported concerns about the rental accommodation to Dublin City Council.
Two days later, Dublin Fire Brigade inspected the building and contacted the company providing the rented accommodation, Global Academics.
#RTEInvestigates 'I've no shower since before Christmas ... There's holes in the floor, yep. I think there's mice in there as well.' pic.twitter.com/ilFL5Ia85v

— RTÉ News (@rtenews) November 2, 2017
The company is owned by Jason Orr and Joshua Cantwell.
The inspectors told the company the building was a potentially dangerous building under the Fire Services Act 1981.
Two weeks later, a fire safety notice was served and the company was required to close the premises.
The RTÉ Investigations unit sent a list of questions to the owners of Global Academics.
#RTEInvestigates 'When it would rain, the rain would come in through the roof, in through the electrics in the bathroom.' pic.twitter.com/X0VX4HsAoN

— RTÉ News (@rtenews) November 2, 2017
In response, they said they were cooperating with the relevant authorities in relation to the property at 79 Old Kilmainham Road.
They said they had closed the premises and were now taking steps to remedy the defects identified by the inspectors.
They also claimed it was not within the remit of RTÉ to carry out an investigation into alleged breaches of legislation governing private rented accommodation.
Another example focused on a three-bedroom home in Rathmines.
This property was shared by a total of 23 tenants who had to observe a 10pm curfew.
The house had just one shower and two toilets, while two small dining tables were used on a rota system.
Tenants were charged €250 per month.
"It actually felt like living in a submarine" - RTÉ Investigates: Nightmare to Let | RTÉ One tonight 9.35pm | pic.twitter.com/9F0GNw3HR9

— RTÉ News (@rtenews) November 2, 2017