Iarnród Éireann has warned staff that each employee could lose thousands in pay if their strike action goes ahead.
In a letter to the workforce this evening, Chief Executive David Franks says that if their five planned days of strike action starting tomorrow go ahead, each staff member will lose on average €1,200.
However, he warns that with unions also threatening more sustained industrial action thereafter if the dispute is not resolved, each worker could see "lost earnings running into thousands".
He urges staff to consider how the "regrettable and avoidable disruption to services" will affect all parties.
He notes that apart from the disruption to 155,000 customers, each strike day will cost the company over €900,000 in lost revenue and National Transport Authority penalties.
He highlights that this lost money will not be available to stabilise the company's finances and to address the workforce pay claim.
The Chief Executive acknowledges that there are unresolved issues between the two sides, but says there is another avenue - returning to the Labour Court to seek a recommendation.
He says this would ensure an opportunity to resolve the pay claim without loss to staff, the company and customers.
Mr Franks concludes: "This issue will only be resolved by direct engagement, and I hope you will support this path, rather than one which is damaging to all and counterproductive".
Rail services face a shutdown from midnight as staff at Iarnród Éireann prepare for a one-day strike over pay.
With no sign of any intervention, both management and unions now say the stoppage is inevitable.
Tomorrow's strike will hit 70,000 Dart users, 45,000 users of commuter services, and 40,000 Intercity customers.
Further strikes are scheduled for 7 November, 14 November - the day of the Ireland-Denmark World Cup playoff - 23 November, and 8 December.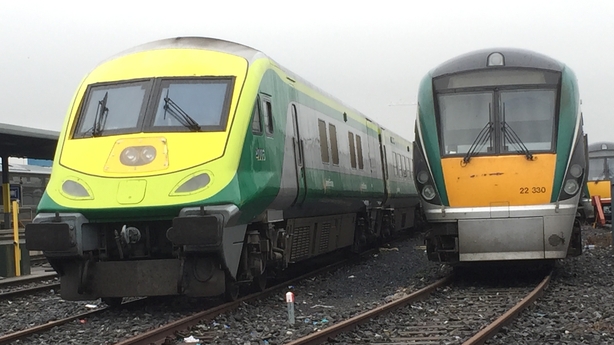 Tomorrow's strike will cost Iarnród Éireann €600,000 in fare revenue and a further €300,000 in National Transport Authority penalties, but some of that will be offset by savings on payroll and fuel.
Staff who have not had a pay rise for almost a decade, want a "no strings attached" increase of 3.75% per year.
In addition to the issue over pay, unions are also campaigning over the issue of underfunding within Iarnród Éireann.
The unions argue it is a service that is underfunded by around €100m per year, and are calling on the government to make that funding available.
They believe that given the lack of pay increases, they are subsidising an underfunded company.
However, the loss-making firm insists pay hikes must be contingent on productivity and that strikes will only make matters worse for company, staff and passengers alike.
This evening, Minister for Transport Shane Ross renewed his call for both sides in the dispute to engage in "constructive and realistic negotiations to address the issues."
In a statement, the Minister said: "I sincerely call on the parties to the Iarnród Éireann pay dispute to continue to use the services of the Labour Court and the WRC.
"It is important for the travelling public – and also for the staff and for the company itself – that public transport continues, and that the dispute is resolved in a realistic, fair and sustainable manner."
A spokesperson for Mr Ross said that the process of setting up a stakeholder forum has already begun.
The spokesperson said that parties who wish to engage are encouraged to contribute to the forum, but dialogue "cannot take place under the threat of or during industrial action."
The spokesperson also said that out of the Public Service Obligation fund, which is available to all public transport companies, 57% of the PSO fund available for the CIÉ Group for last year went to Iarnród Éireann.
However, the company only carried around 20% of the total passengers.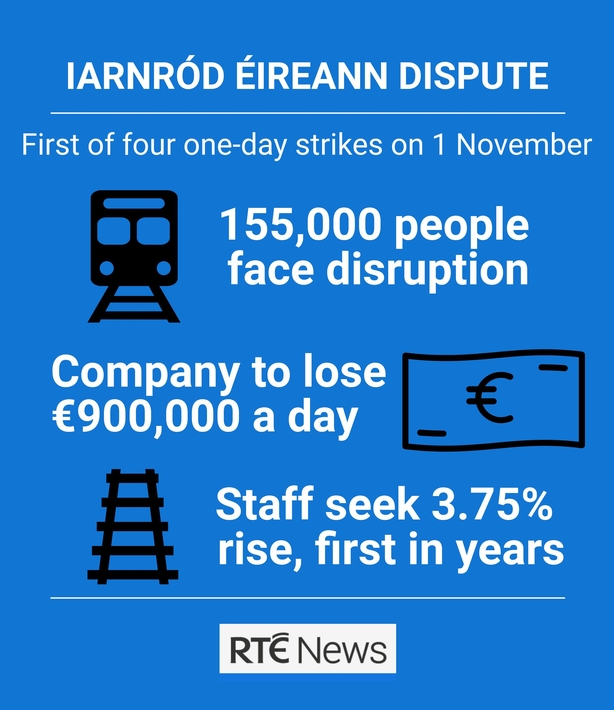 During the strikes, Dublin Bus and Bus Éireann will not be accepting Iarnród Éireann tickets.
Dublin Bus have said that this is the case during any period of industrial action by other public transport operators.
Bus Éireann issued a statement saying they are a separate business to Iarnród Éireann with a commercial subsidiary.
A spokeswoman said the company will review the possibility of providing extra services on the busiest routes. Customers are advised to book online in advance so that demand can be assessed.
In a statement, Iarnród Éireann has said that anyone who has booked travel on dates scheduled for industrial action using monthly or annual season tickets can apply for a refund, and those who have purchased a ticket from a station can collect a refund form from the station.
The General Secretary of the National Bus and Rail Union has said tomorrow's strike should not spread to other services because the NBRU's dispute is only with Iarnród Éireann.
Dermot O'Leary warned that there will be a continuation of these kinds of disputes, as long as the CIE contracts with the National Transport Authority do not provide for pay improvements.
Speaking on RTÉ's Today with Sean O'Rourke, Mr O'Leary said staffing levels and payroll costs have decreased over the last ten years, while rail services have increased.
He said the argument of company debt and possible insolvency was a "red herring" and that Iarnród Éireann would never go insolvent.
An Iarnród Éireann spokesperson said a €43m pay claim will make the company insolvent and that you cannot pretend the €160m accumulated losses do not exist.
Speaking on the same programme, Iarnród Eireann's Corporate Communications Manager Barry Kenny said the company has to be responsible to its customers and its employees, because "if we're insolvent it means job security goes".
Regarding rail union calls for parity with members in Luas and Dublin Bus, he said there is "no common approach to pay in public transport".
He said while Luas and Dublin Bus were clearly in a position to afford pay increases, Iarnród Éireann, like Bus Éireann is not.
He said Iarnród Éireann is in a similar "difficult financial situation", but the company has been moving and trying to find a mechanism by which it can improve pay.
He said "we simply cannot afford a pay claim that will add cumulatively to our costs, €43m over 3 years".
Mr Kenny said Iarnród Éireann co-produced the rail review, which shows the rail network is underfunded, and that it is "underfunded to maintain the network not to resolve industrial relations disputes".
"We co-produced the rail review, which shows the network is underfunded and but is underfunded to maintain the network not to resolve industrial relations disputes.  The fact of the matter is that a €43m claim will make this company insolvent," he said.
He said the implication of what unions are saying is that they expect a blank cheque to be written to fund the €43m pay claim.