The UK's minister for agriculture has said he is hopeful that Brexit negotiations will produce a deal that is in everybody's interests.
Michael Gove indicated that he plans to travel to Dublin next month for talks with members of the Government and with representatives of the Irish agricultural sector.
He was speaking to RTÉ News following a meeting with the EU's Agriculture Commissioner, Phil Hogan, on the sidelines of a conference on the future of the dairy sector.
Asked if the UK might be pursuing a treaty with the European Union that would give them a version of the current customs union arrangement, he said he would not speculate on what the final shape of a deal might be.
However he said Prime Minister Theresa May has always made it clear that what the UK wants is a unique and special partnership, a deep and a comprehensive trade agreement and that this would be in the interests of the EU27 countries.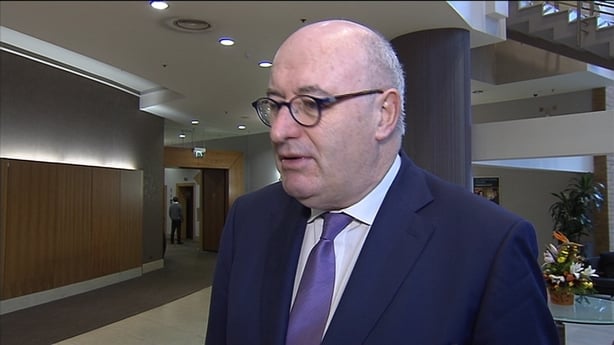 Mr Hogan described the meeting with the British minister as good and constructive.
He said "the European Union is very strong and very united to ensure that we have a soft Brexit rather than a hard border on the island of Ireland."
Asked if there was a change in the British tone in the Brexit negotiations, he said everybody now understands we have to look at all issues on which strong positions were held up to now, to see if there is room to manoeuvre.
Mr Hogan said everybody in the UK and EU wants a soft Brexit, but where we have difficulties is what is the practical expression of this.
The former Fine Gael minister also said that the prospect of failure to reach an agreement in December's Brexit talks is not something that is being considered.