Kenyan police have clashed with opposition supporters where burning barricades and groups of youths prevented voting in some towns in an election re-run.
The protesters are seeking to challenge the credibility of President Uhuru Kenyatta's expected victory.
In the western city of Kisumu, stone-throwing youths heeding opposition leader Raila Odinga's call for a voter boycott were met by live rounds, tear gas and water cannon three hours after polling stations were meant to have opened.
Kenya votes in election rerun amid unrest pic.twitter.com/iHSAHUNhZd

— RTÉ News (@rtenews) October 26, 2017
There were no immediate reports of casualties.
Polling stations have been opened in over 90% of the country and voting has commenced, according to Interior minister Fred Matiang'i.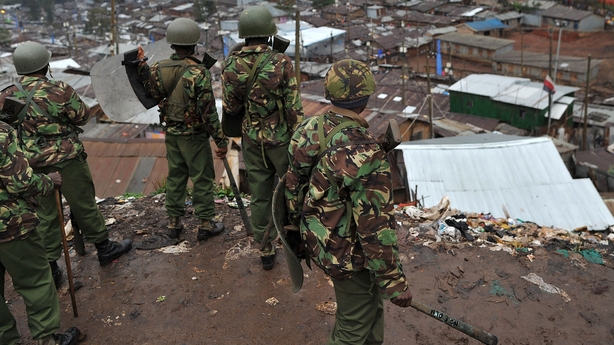 In the western town of Migori, another opposition stronghold, several hundred young men milled around on a main road littered with rubble and burning barricades, according to footage on the domestic NTV channel.
The handful of polling officials who pitched up to work in Kisumu, the scene of major ethnic violence after a disputed election in 2007, cowered behind closed doors, unable to distribute any voting material.
Such problems, already acknowledged by judges and the election commission, are likely to trigger legal challenges to the run-off and could stir longer-term instability in a country affected by deep ethnic divisions.
The re-run follows an August vote whose result - a Kenyatta victory - was annulled by the Supreme Court due to procedural irregularities.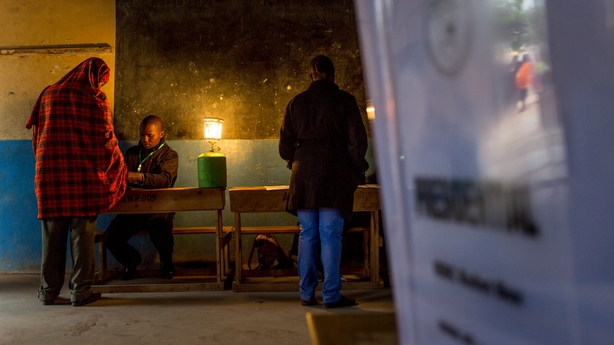 A decade after 1,200 people were killed over another disputed election, many Kenyans are ready for trouble, although on the eve of the vote Mr Odinga backed off previous calls for protests and urged supporters to stay out of the way of police.
"We advise Kenyans who value democracy and justice to hold vigils and prayers away from polling stations, or just stay at home," he said.
Mr Odinga's National Super Alliance coalition, which has been accused of harrassing polling staff in the run-up to the vote, is likely to present a lack of open polling stations as proof the re-run, organised in less than 60 days, is bogus.
The head of the election commission said last week he could not guarantee a free and fair vote, citing interference from politicians and threats of violence against his colleagues.
One election commissioner has quit and fled the country.
Mr Kenyatta, the US-educated son of Kenya's founding father, has made clear he sees the vote as legitimate.
In central Nairobi, where support for the two protagonists is more mixed, early turnout was significantly down on August.
Anti-riot police were patrolling in Kibera and Mathare, two volatile Nairobi slums.
Nearly 50 people have been killed by security forces since the August vote.