Broadcaster Bryan Dobson has signed off from RTÉ's Six One News for the final time, ahead of his move to RTÉ Radio.
Minister for Finance Paschal Donohoe, who was Mr Dobson's final interviewee on the flagship evening news programme, wished the presenter well in his career move.
Paschal Donohoe wishes Bryan Dobson well on his last Six One News, Mr Dobson says he looks forward to talking to him on the radio pic.twitter.com/Z5xQd4vY1f

— RTÉ News (@rtenews) October 25, 2017
Co-presenter Sharon Ní Bheoláin also paid tribute to Mr Dobson at the end of the bulletin, before introducing a reality TV-style 'best bits' montage covering his 21 years on the evening news bulletin.
After 21 years, Bryan Dobson has co-presented his final Six One News. Here is a look back at some of his many highlights on the programme. pic.twitter.com/2S0gIk5Co7

— RTÉ News (@rtenews) October 25, 2017
He will begin broadcasting on RTÉ's Morning Ireland on 1 November.
Sharon Ní Bheoláin pays tribute to "behemoth of broadcasting" Bryan Dobson as he moves to @morningireland More: https://t.co/j554wS8fDm pic.twitter.com/q8DUTSNI9F

— RTÉ News (@rtenews) October 25, 2017
In 1987, Bryan Dobson joined RTÉ as a reporter with RTÉ Radio's This Week programme.
Soon after, he was appointed to the post of RTÉ Business Correspondent and also began presenting the television business programme Marketplace.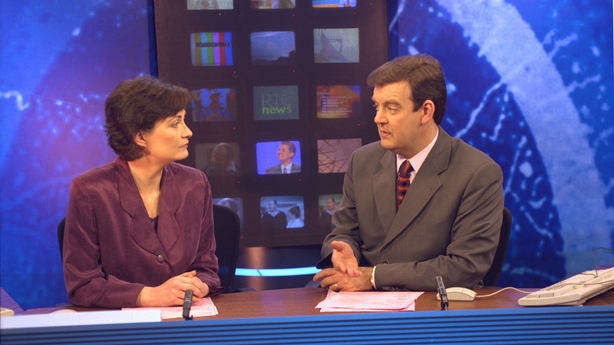 He presented RTÉ's One O'Clock News and Nine News before being appointed anchor of the Six One News in 1996.
Through the years, he also worked on documentary programmes and guest-presented special programmes.
RTÉ Newscaster Una O'Hagan says "TV's loss will be radio's gain," as Bryan Dobson leaves Six One for @morningireland https://t.co/j554wS8fDm pic.twitter.com/EgZ6gLNhx5

— RTÉ News (@rtenews) October 25, 2017
Speaking in recent weeks, Mr Dobson said he would "greatly miss" Six One News, but said the time had come to grasp new opportunities.
"Morning Ireland is the country's most-listened-to radio programme with an audience that is highly engaged in the debates, arguments and discussions that make up the national conversation.
"I am hugely looking forward to joining the Morning Ireland team and playing my part in serving our listeners and in continuing to meet, and exceed, their expectations."
"You know that you're in safe hands." Dympna Moroney, Programme Editor, as Bryan Dobson joins @morningireland pic.twitter.com/47aeBZPoqK

— RTÉ News (@rtenews) October 25, 2017
The announcement of a new presenter for the Six One News will be made shortly.
Mr Dobson will be a permanent presenter on RTÉ's Morning Ireland, joining co-presenters Rachael English, Dr Gavin Jennings and Audrey Carville.