Taoiseach Leo Varadkar has admitted there are differences of opinion between Ireland and France on taxing internet giants, but he hailed a new relationship between both countries, which he said had been brought about by Brexit.
Following an hour of what he called deep, detailed talks with French President Emmanuel Macron in the Elysée Palace in Paris, Mr Varadkar said his counterpart had been very supportive of Ireland in the Brexit negotiations.
Speaking to reporters afterwards he said: "I leave Paris feeling very strongly that, while we may not agree on everything, we do have a very strong ally in France. After the UK leaves the EU, the nearest EU country to Ireland will be France, so this is going to be a really important relationship into the future."
Mr Varadkar said France wanted the EU to take the lead on how global tech firms are taxed, while Ireland wanted the issue to be addressed at a global level through the OECD.
"We obviously have a difference of opinion on digital taxation," he said. "We agree that internet companies should pay their fair share of tax, but it is our strong view that global companies that operate on the World Wide Web need a worldwide solution to taxation, and we'd like to see that through the OECD process rather than through the European Commission."
However, Ireland would look forward to the European Commission's proposals due in early 2018, he said.
"What we don't want to do is to impose a new tax on internet companies that actually benefits non-EU countries. That would be totally counterproductive."
Taoiseach @campaignforleo meets @EmmanuelMacron for talks on Brexit, future of Europe and digital taxation pic.twitter.com/m9RMRIiMAZ

— Tony Connelly (@tconnellyRTE) October 24, 2017
---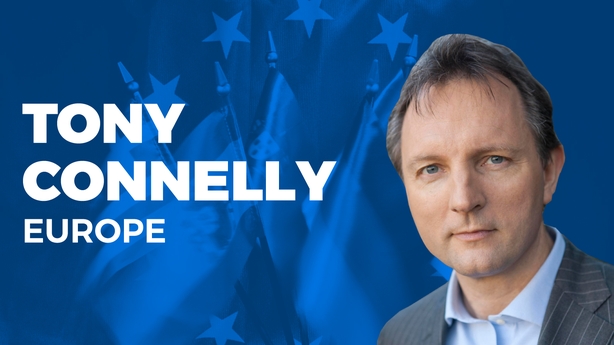 Tony Connelly, Europe Editor
Ireland is in the business of building new alliances at European level. So there is a natural kinship when it comes to defending beef farmers against a potential rise in imports from Mercosur countries.
The Taoiseach said the meeting was deep and detailed, covering eurozone reform, Ireland's peace keeping role in Mali, and the proposed undersea Interconnector between the two countries.
Both men spoke positively about taking greater strides at EU level in the space freed up by Brexit.
The French president noted that after Brexit France would be closest EU country to Ireland - and he didn't just mean geographically.
He said it was up to the UK to propose concrete solutions to minimise the impact of Brexit on the Irish border.
But the Taoiseach admitted there were disagreements over France's proposal for a way to tax internet giants. Macron wants it done at EU, the Taoiseach says it should be done globally through the OECD.
Both men said they would continue discussions on the issue.
---
The Taoiseach said threatening a veto on the issue at EU level would not be the best course of action.
"Tax remains a national competence. We're not the only ones who hold that view. I don't want to be threatening vetoes, that's not the best way to engage in European diplomacy. We should try to come to an agreement. But our strong view is that the best solution is an international one."
He said both countries were "totally committed to digital taxation," and had agreed to keep lines of communication open.
Both men and their delegations discussed the Brexit negotiations, Ireland's peacekeeping presence in Mali, the Mercosur trade talks and the Celtic Interconnector, an underwater cable which will provide two-way energy flows between France and Ireland.
He said they discussed the future of Europe agenda being led by the European Council President Donald Tusk.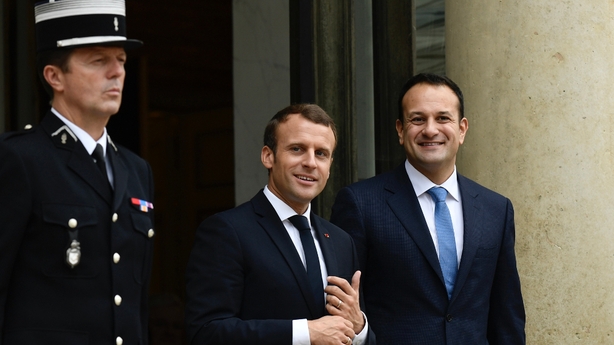 There was strong support from both sides for the EU banking union, on plans to expand capital markets, and for closer cooperation on migration issues.
The Taoiseach said he had asked the Minister for European Affairs, Helen McEntee, to bring forward proposals on citizens' debates on the future of Europe.
Mr Varadkar delivered part of his statement following the meeting in French which, he said, he had learned to Leaving Cert level.
He confirmed that Ireland had applied for associate membership of the group of Francophone nations.
He had impressed upon Mr Macron Ireland's unique issues in the Brexit talks.
"We assume that everyone understands them, but they don't always necessarily," he said.
"This is about much more than just money. This is about peace on the island, it's about the future of North South relations, and east and west."