Taoiseach Leo Varadkar has said he believes there will not be a hard Brexit.
At the close of the European Council summit in Brussels, Mr Varadkar voiced his frustration at the lack of progress on the divorce bill that the British government will have to foot.
He also raised concerns there has been little movement on how the Irish border will look when the UK splits from the European Union.
Earlier, leaders of the remaining 27 EU member states gave the green light for preparations to begin for the second phase of Brexit talks, dealing with trade.
The move paves the way for the possible start of formal talks on the future EU/UK trade relationship in December.
The European Council decided that insufficient progress had so far been made in divorce talks to move on to trade discussions now, as Britain had hoped.
But Council President Donald Tusk said in a tweet: "Brexit conclusions adopted. Leaders green-light internal EU27 preparations for 2nd phase."
Brexit conclusions adopted. Leaders green-light internal EU27 preparations for 2nd phase. #EUCO

— Donald Tusk (@eucopresident) October 20, 2017
"I'm very much of the view that a hard Brexit can be avoided, that we will certainly have a transition period.
"I'm very confident that can be achieved," Mr Varadkar said.
He had revealed that British Prime Minister Theresa May told EU leaders over dinner last night that she would not accept a physical border on the island of Ireland.
On her departure from Brussels, Mrs May said Europe was agreed that there should be no physical infrastructure "at the border".
The Taoiseach said there was widespread support from leaders at the summit over the Irish question.
"There's a real understanding I have to say around the table... that Ireland is unique, it is a very difficult situation and that this is not a problem of our creation," he said.
"I do think there will be flexibility for us."
The Taoiseach praised Mrs May's interventions at the summit on the issue of a global regime for taxing digital companies and on issues of trade.
"I'm really going to regret, really going to miss the UK around the table," Mr Varadkar said.
The Taoiseach said the issue of trade between Britain and Ireland remains unanswered but he cautioned that the proposal of a two-year period for bedding in Brexit would give people time to come to terms with any new arrangements.
He said the Government would continue to work on contingency plans.
Mr Varadkar also said he does not expect Brexit to have any impact on the Common Travel Area between Britain and Ireland.
He gave an optimistic view on the prospect of talks progressing in December.
"What we are not really looking to do as a Government is design a border, whether flexible or imaginative or anything else," the Taoiseach said.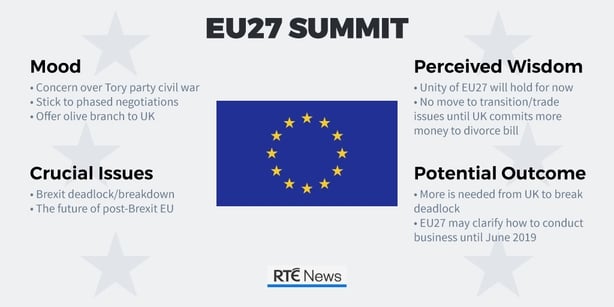 Mrs May won a modest reprieve in the stalled Brexit talks, by EU leaders signalling their readiness to move the negotiations forward.
But despite a more positive tone, she now faces a delicate political balancing act as she tries to meet EU demands for more concrete pledges on Britain's divorce bill without stoking a backlash from Brexit campaigners at home.
EU leaders made clear at the summit that Mrs May would have to move between now and the end of the year on settling a financial bill that EU officials have estimated at around €60 billion.
"I think it is very clear what additional steps need to be taken," German Chancellor Angela Merkel told a news conference at the end of the summit, saying movement on the financial settlement was crucial for progress in December.
French President Emmanuel Macron was tougher, saying the two sides had not yet completed even half of the work on the financial settlement and accusing Britain of "bluffing" by using the media to suggest there could be no deal.
"A lot is in the hands of Theresa May," he said.
An EU official said it took just 90 seconds for the 27 other leaders to adopt their Brexit conclusions at the end of the meeting, underlining how united they are.
Mrs May has said she cannot provide a specific financial pledge until she knows the shape of the future relationship.
---
Further reporting: Tony Connelly, Europe Editor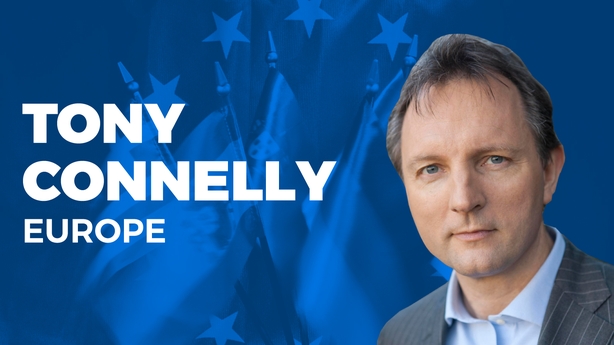 The overnight mood on Brexit appeared more conciliatory despite the recent and almost fatal antagonism over the negotiations, with eurosceptics in Theresa May's party clamouring for Britain to walk away.
Chancellor Merkel said contrary to the impression given in the British press, the talks were moving forward step by step.
This morning, the EU27 met without Mrs May. They agreed to start technical work among themselves on a transition deal, and future trading arrangements.
But that was as far as it got. The EU still wants London to promise more money.
In her news conference, Mrs May gave little away except that Britain would be going through its EU budget commitments line by line.
On Ireland, she said both sides had agreed there could not be any physical infrastructure at the border. Both sides were also committed to a flexible and imaginative solution - but she did not spell out how to avoid that infrastructure, and what those solutions might look like.
No compromise in sight as EU leaders meet for summit
---
The EU is insisting that the two sides agree on an exit bill, the rights of EU citizens in a post-Brexit world and Irish border issues before delving into future ties.
Asked whether she had improved an offer of about €20bn, Mrs May said she had repeated commitments she made in a speech in Italy last month, when she said the bloc would not be out of pocket when it came to its budget which runs until 2020.
"What I made clear to my EU counterparts in relation to financial contributions... is that nobody need be concerned for the current budget plans ... and that we will honour the commitments that we have made during our membership," she told a news conference before returning to Britain.
"Now there has to be detailed work on those commitments...we are going through them line by line and we will continue to go through them line by line."