Tens of thousands of rail passengers face significant disruption in the run-up to Christmas after unions at Iarnród Éireann announced five 24-hour strikes in their dispute over pay.
SIPTU, Unite, and National Bus and Rail Union members at Iarnród Éireann voted overwhelmingly in favour of industrial action in a dispute over pay.
They will hold stoppages on 1, 7, 14, and 23 November, and 8 December.
The action is likely to affect 155,000 passenger journeys per day.
If the dispute is not resolved, further stoppages have not been ruled out.
The action on 14 November coincides with the Republic of Ireland v Denmark World Cup play-off at Lansdowne Road.
SIPTU, which represents 1,900 workers at the company, voted by 84% in favour of industrial action, while Unite said nearly three-quarters of its members voted for the action. 
Unions blamed management for forcing them to take industrial action after talks collapsed last night.
However, the company warned that it was "dangerously close to insolvency" and that industrial action would make matters even worse.
Both sides took part in more than 12 hours of talks at the Workplace Relations Commission. An agreement over a pay deal was said to be close, but talks collapsed at the last minute.
Management at Iarnród Éireann accused the unions of rejecting a deal offering 1.75% for one year, with further improvements possible subject to productivity.
However, furious union representatives accused Iarnród Éireann Chief Executive David Franks, who was not at the talks, of collapsing discussions at the 11th hour.
Speaking on RTÉ's Drivetime, NBRU General Secretary Dermot O'Leary said Mr Franks absence at the talks adversely affected the productivity of negotiations.
He said his union would not voluntarily bring the matter to the Labour Court and he considered it to be "the court of last resort".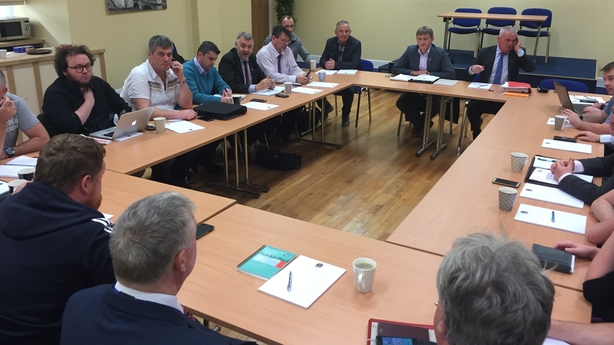 A spokesperson for Iarnród Éireann said the move would disrupt customers, hit staff wages and uncertainty over a prolonged period would cost the company business.
He noted that the company was already "dangerously close to insolvency", with accumulated losses of €160 million.
Iarnród Éireann said it "regrets the decision by a group of unions including SIPTU, NBRU, TSSA and Unite, to schedule five 24-hour strikes during November and December.
 
"Because of the decision, the company regrets to inform customers at present train services are not expected to operate across Intercity, DART and Commuter services.
"The company has reiterated that the talks at the WRC arose from a Labour Court recommendation, which stated that if at the end of the WRC process there were outstanding issues of difference, they should be referred back to the Labour Court for a final recommendation.
 
"Iarnród Éireann remains committed to this process, and to resolving this claim through dialogue, and through the industrial relations machinery of the state. Customers should not be disrupted in any way while this process - set out by the Labour Court - has not yet been concluded."
Minister for Transport Shane Ross called on both sides to use the industrial relations mechanisms of the state to resolve the dispute in a realistic, fair and sustainable manner.
Announcing the decision to take industrial action, SIPTU Divisional Organiser Greg Ennis said: "While the impending industrial action is regrettable and will no doubt affect the travelling public, our members believe they are left with no option but to pursue such a course on foot of the procrastination by management over what is a reasonable pay claim and which is in line with similar pay awards within the CIE group and wider transport sector."
Earlier, Barry Kenny, corporate communications manager with Iarnród Éireann, said that progress had been made in the talks, but said that the NBRU was mistaken to think it was "extraordinarily close" to a proposal. 
He said that all sides should return to the Labour Court to resolve outstanding issues and that the unions should not be threatening distruption to rail services.