The future of the health service was discussed as the Cabinet met in University College Cork today.
Top of the agenda was the task of finding a way to implement the Sláintecare plan.
The plan is a ten-year costed vision for a single-tier health service which has the backing of all parties in the Dáil.
Minister for Health Simon Harris has said Cabinet took three steps today at reforming the health service, all part of Sláintecare.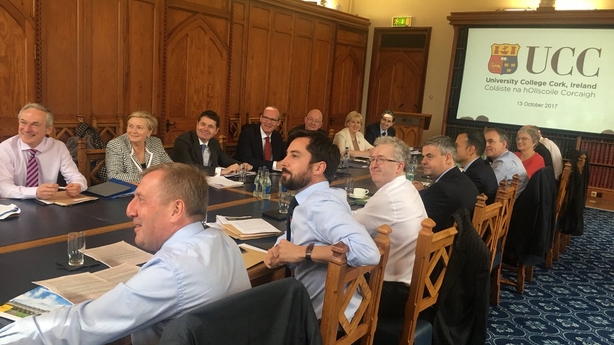 Speaking on RTÉ's Drivetime, Mr Harris said it was decided that an independent group be established to examine the impact of separating private practice from the public hospital system.
He said it will be chaired by Donal de Buitléir, who has chaired the Low Pay Commission, and will report by summer next year.
Minister Harris also said Cabinet decided to launch a consultation in November on the future shape of hospitals groups and community health organisations across the country.
A decision was also taken today, he said, to bring forward legislation for the establishment of a performance and oversight board for the HSE.
Fianna Fáil's health spokesperson Billy Kelleher has said the Irish healthcare system will collapse unless bed capacity in public hospitals and the provision of primary care are addressed immediately.
Mr Kelleher said these "quick gains" from the Sláintecare ten-year strategy need to be addressed.
On the health spend announced for Budget 2018, Minister Harris said it was significantly increased.
There had been widespread criticism of the Government in the Dáil this week over what the Opposition said was insufficient funding in the Budget to implement the Sláintecare plan.
However, the Government said the primary care fund, additional home care and reduced charges for prescriptions signal a commitment to reform.
Also €1 million has been provided to establish the Sláintecare implementation office.
The meeting is the first time in 12 years that a Taoiseach and ministers have gathered for discussions in Cork.